Hello Friends!
First, a thank you to everyone who has come in to visit during our first week of being open - it has been great to hear about your projects and see the tops you've brought in for quilting. Amy is all set up in her longarm paradise and quilting up a storm! We're continuing to build our inventory - new fabrics, notions, and patterns arrive every day!
(Flower Garden Gathering bundle!)
Just in the past few days we've received Janet Clare's line for Moda: Weather Permitting (first photo below) as well as Flower Garden Gathering from Primitive Gathering (second photo). We have bundles of Flower Garden Gathering available, too!
One thing we've found you really like are our NDSU and UND logo panels! We love them, too!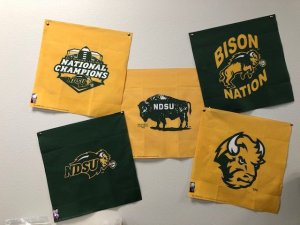 These panels are the perfect size for a variety of projects, from bags to pillows to quilts. Do you know someone involved with either school? If so, you might find some Christmas gift inspiration here - pair a panel with a solid, Grunge, or print, and you'll have a project that will go together quickly and delight the recipient.
Even though we have only been open a week, we already have a variety of kits and bundles just waiting for you. Many of the kits we have right now would make wonderful gifts, though you will probably be tempted to keep some of the coziest ones, like the Dayhike kit made with a Wool & Needle VI flannel layer cake,
especially if it is backed with Cuddle (that Minky-like soft fabric we all like to snuggle under). Dayhike, by Amy Ellis, is one of our favorite patterns for a reason: it goes together quickly and works for any fabric, from whimsical to elegant.
Thank you for reading our newsletter and following along on our adventure. We have lots of fun classes planned, and are working to get our classroom space ready! In the meantime, we are having First Friday with Connie Selle in a "pop up" classroom in the shop. This coming Friday will be the first one - call to register! Connie is taking January off, and will be back with First Friday in February. When you come in to see us, don't forget to sign up for our birthday club when you check out (the computer insists on having a year, but feel free to use whatever year you want!).
Happy quilting!
~ Kim