Skip Navigation
Website Accessibility
Quilter's JEM News for the week of December 11, 2018

Hello Friends,
Can you believe how close we are to Christmas? How are your projects coming along? Still looking for ideas? We have some ideas that you might want to make for someone, but first how about some ideas you might want to tell someone you would like!
We have some machines at the shop now with a special price for the holidays.
There are two in particular that would make great starter machines or class machines: the Bernette Swiss Design b33 and the Bernette Swiss Design Sew & Go. The b33 is an especially good deal as right now it comes with 10 extra feet, including a free motion foot!
The Sew & Go can also be used for free motion quilting if you cover the feed dogs.
We have a class coming up in January on the Metro Tote. The pattern is by Alana and she will be teaching the class, too. The sample hanging in the store uses the Metropolis panel and coordinating fabrics from Moda - we have kits, if you want your tote to look just like this one!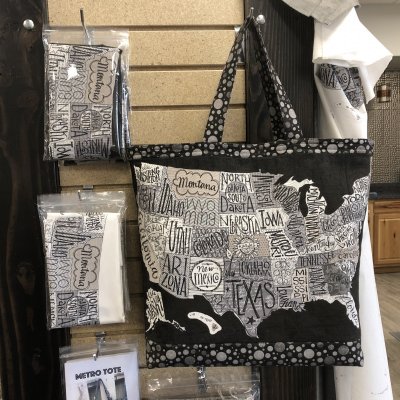 But, we only have a few kits left - if you'd like to find the kit, or the pattern, under the tree so you are prepared in January, come in soon to pick one up!
You can also order a kit online
and pick it up at the shop (just choose pick up from the shipping options at check out)!
New kits also include the
Chandelier kit
(we also have jelly rolls for this fabric line if you want to make a coordinating Jelly Roll Rug - and best of all, we have the pre-cut rolls of batting strips!).
We've made five kits from four different fabric lines using the Spacious Skies book - keep an eye out for the samples to be appearing soon in the shop! The book is sold separately from the kits, so you can make all the kits but only need to buy one book!
If you've been in to visit us, we hope you will
write a Google review
and let people know about our shop. We are working to get the word out to as many people as possible!
Thanks for taking time to read our news. We are always working on something exciting to tell you about! Stop in say hello soon!
~ Kim