Hello Friends!
First, I want to tell you our holiday hours: on Christmas Eve, 12/24, we'll be open 10-1pm. We'll be closed on 12/25, 12/31, and 1/1. But the rest of the holiday season we are here, ready to help you plan your next project, find the perfect binding, and even shop for your quilting friends! We can gift wrap your purchases, and we have gift certificates, too! Gift certificates are a fabulous option: they always fit!
We have two new lines of fabric at the shop: Corey Yoder's Sunnyside Up, which includes an adorable and versatile panel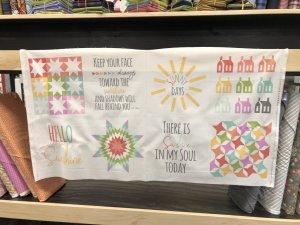 plus coordinating bolts
and Dandi Annie from Robin Pickens
We have new layer cakes and jelly rolls!
Machi, by Debbie Maddy
Looking Forward, by Jen Kingwell, plus sets of her Tempters with templates
Voysey 2018, from Moda's partnership with the Victoria & Albert Museum
We've had lots of new patterns arrive this week - from favorite designers like Elizabeth Hartman, Zen Chic, GE Designs, Alison Glass, and more - and notions (maybe you need a Stripology ruler for Christmas?) and books.
Don't forget about our UND and NDSU panels! They are great for quick little projects like throw pillows or totes, as well as for larger projects, and would fit perfectly in a T-shirt quilt!
Next time, I will have more kits to tell you about and show you (the Quilter's JEM elves have been *very* busy), but for now I will wish you a Merry Christmas, and leave you with this adorable penguin from Elizabeth Hartman's Penguin Party!
~ Kim