Skip Navigation
Website Accessibility
Quilter's JEM News for the week of January 1, 2019

Hello Friends, and Hello 2019!
The new year is bringing a great new change to Quilter's JEM - Mrs. Dietrich is joining us and we are now accepting machines for servicing at our location! If you put in as many holiday sewing hours as we did, your machine might be feeling a little under the weather. It's amazing how much even a machine appreciates a spa day!
Even after all the holiday sewing, I wonder if, like me, you are starting your new year full of plans for new projects and new techniques you want to try? Maybe this is the year you tackle an Elizabeth Hartman pattern - it can be intimidating, but starting with a pillow is a good way to begin. We have this adorable pineapple pillow here at the shop if you want to see it in person - pattern too!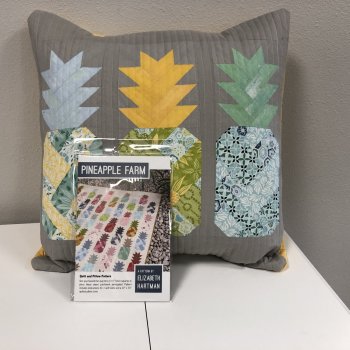 I know that sometimes the holiday sewing can get the better of us, and not every project is done in time - if you ended up gifting someone a beautiful quilt top, that you promptly took back so it could be finished (don't ask how I know that this can happen...), you might need some backing. We have some beautiful wide-backs and also lots of new minky in a variety of colors and even plaids!
We have more new kits from the Spacious Skies book, including this fun one with inspirational words and lovely muted greens and grays.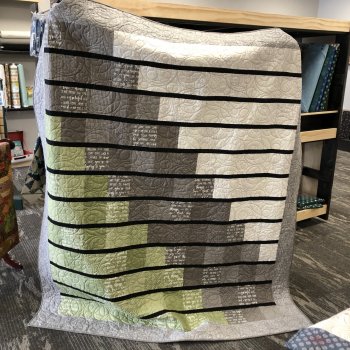 A seascape panel provided this inspiration for this nautical wallhanging - it would also make a great baby quilt. Kits are available, as are panels.
Sometimes with the new year we feel the need to organize, to get that sewing space in shape...maybe with some new cabinet or desk space?
I know that I am thrilled to have our new Bernina shelves installed at the shop and the machines all on display looking their best!
Maybe you are starting a sew-along with a favorite designer on Facebook or Instagram - maybe even one like Katja Marek's Millie Stars, based on her New Hexagon book and New Hexagon Perpetual Calendar? If so, we have you covered with both the book and the calendar, as well as plenty of fabrics that will help you collect all the shades of color you need!
Starting this month we also will have Quilting 101 in our pop-up classroom space. Connie Selle can teach you everything you need to know to not just start quilting, but also to complete your first project! The class runs 8 sessions, and we have two options for day/time. The first is a Monday afternoon class at 1:30pm starting January 14th and the second is a Tuesday evening class at 6:30pm starting January 15th.
I'd love to hear what YOUR sewing goals are for 2019, and if there's a way Quilter's JEM can help you achieve them!
Happy Sewing!
~ Kim