Skip Navigation
Website Accessibility
News from Quilter's JEM for the week of February 26, 2019

Hello Friends!
Thank you so much for coming out to our Open House weekend! It was so much fun to see you all, eat cake with you, talk about projects and fabric, and also to draw for prizes!
Congratulations to our wonderful winners: Lori Johnson, Marilynn Hagan, Janet Gregory, Harriet Powers, Nancy Klatt, Carol Morrison, Shelly Chaput, Marian Grondahl, Cindy Peterson, and Susan Kemp-Ault. Don't forget to come and pick up your prize if you weren't here when we drew your name!
Many of you who came to Open House mentioned how much more fabric and notions we have than we did back in November - isn't it great! Just look at our notions wall! And if we don't yet have the notion you need, let me know - I can always special order for you!
We also have the Parallel Lines book by Pam Dinndorf in stock again!
And our inventory is continuing to grow - I am so excited for the fabrics we have coming in March and April and can't wait to show them to you! In the meantime, you've seen our adorable panel of zoo animals, and the farm animal version, too. It is a full yard panel, which means you can make a very quick, very cute baby quilt!
We also have the Cozy Cabin panel and coordinating bolts from Maywood!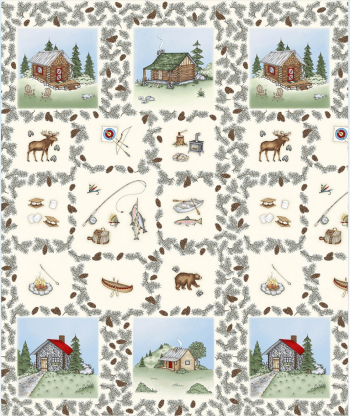 Our JEM of the week is a FQ bundle of gorgeous floral in blues.
Are you part of a small group of quilters looking for a Block of the Month to do together? Brigitte Heitland of Zen Chic's Spotted More Paper would be an excellent choice - it has both familiar blocks and skill-builder blocks.
I found a picture online of an alternate setting for these blocks that I thought was also really nice, and I also saw the blocks made into pillows! Isn't it interesting how sometimes the setting shown on a pattern isn't our favorite, but the same blocks in a different arrangement or with a different background can be right up our alley?
Or this way of using the blocks:
Speaking of different arrangements, did you have a chance last week to look on Instagram or Google images of all the different ways quilters have arranged their 100 blocks from the City Sampler book? And all the different color and fabric choices! We're starting our
100/100 Club
next week on Monday, March 4 - we'll be sewing 5 blocks a week, working our way through Tula Pink's City Sampler, one 6" block at a time!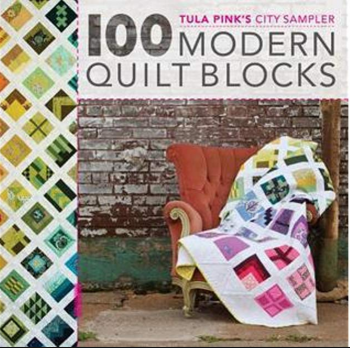 Our
100/100 Club
is a no-fee club with a dedicated email newsletter about the blocks we'll be sewing each week, with encouragement and tips along the way! Lots of people working at Quilter's JEM will be participating, too (Barb is doing hers in Christmas colors! She'll have a brand new Christmas quilt by the end of the summer! I also know someone who took their 100 blocks and made four baby quilts of 25 blocks each - so many possibilities!) Let us know you want to be in the club and we will add your email to the list.
Other classes:
(click the links to see details; you can also register online!)
Quilting 101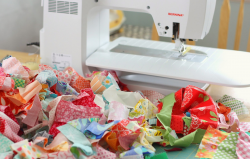 Scrap Masters Club
(join any time!)
Scrappy Accordion Triangles
with Pam (you saw her demonstrate this amazing method at the Open House!)
Dresden Neighborhood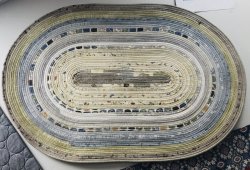 Jelly Roll Rug
- back by popular demand!
Happy Sewing!
~ Kim