Hello Friends!
DUE TO THE PREDICTED WEATHER CONDITIONS, QUILTER'S JEM WILL BE CLOSED TOMORROW, THURSDAY, MARCH 14, 2019!
It seems like every time I write to you we are on the verge of another snow event! Has your machine been humming like mine all through this snowy winter? It is so much fun to see finished projects coming together...and so much fun to start new ones, too!
We have a new line of fabrics in, Growing Beautiful from Crystal Manning and Moda. I could not resist taking a picture of our bundle of this gorgeous fabric in the bright morning sunshine:
The whole line just shimmers with intense color and is the perfect antidote to our white & grey landscape outside.
We have charm packs and panels for Stacey Iset Hsu's new line, Best Friends Forever
The panel makes four little dolls, their animal friends, and a fold-up playhouse!
Those Noodlehead patterns I promised you are here too - the patterns for the Range Backpack and Everyday Essentials - plus more!
We also have these absolutely adorable pre-sewn friends from Tilda's World, ready to be dressed up and loved!
Have you been in to browse the Tilda books? Each book has so many great projects, from quilts to softies to pillows and more!
We have a nice set of patriotic fabrics, perfect for a Quilts of Valor project!
This week's JEM of the week: the Play All Day layer cake, perfect for so many great projects, especially with the right coordinates!
And last, but never least, a new and very cute 1 yard Noah's Ark panel. Is there anything better - and quicker! - than a very cute one yard panel backed with minky or a fun print and quilted up quick to welcome a baby?
Upcoming classes: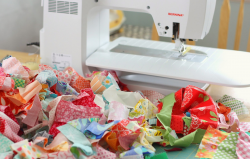 Scrap Masters Club
(join any time!)
Scrappy Accordion Triangles
with Pam - a great way to use and save scraps you can't bear to part with! Turn them into half-square trianges with *no waste*!
Dresden Neighborhood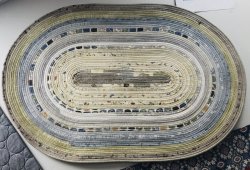 Jelly Roll Rug
- back by popular demand! And here's a picture of two Christmas jelly-roll-rugs-in-process!
Happy sewing!
~ Kim