Skip Navigation
Website Accessibility
News from Quilter's JEM for the week of 3/20/19

Hello Friends!
This week brings the Spring Equinox - from this point on for the next six months we will have more day than night! This winter has sure made me ready for Spring - how about you? In that spirit I have lots of new, bright, breath-of-fresh-air fabric to show you!
First, let me introduce you to Robin Pickens's new line Sweet Pea & Lily - an explosion of beautiful flowers and elegant grey geometrics! We have bolts, charms, jelly rolls, and a couple of lovely patterns.
Next, we have new Peppered Cottons in all your favorite Easter Egg colors!
For fans of tone on tones and semi-solids, we have Jotdot from Blank Quilting.
Last week I showed you Crystal Manning's Growing Beautiful line, and here is a quilt featuring the pinks from that line.
The pattern is from the Lavender Lime book Calming Comfort. Off to the side you see a little corner of Love 4 Cotton, and here is a picture of that kit, too:
As you may have seen on Facebook and Instagram, the JEM of the Week this week is the Sunnyside Up panel - regularly $8.99, this week $7.99. This is a great panel, with uplifting sayings and cute graphics, and we have pretty coordinating yardage, too!
We have started to sell out of some of our kits, and when that happens the samples will often be offered for sale. The prices on those samples will reflect materials used, including batting and backing, as well as the cost of quilting and binding.
Speaking of kits, stop in on Saturday to see what we've chosen for our Saturday Sparkler! Each Saturday we'll choose a kit to offer for 10% off - which one will it be?!
Upcoming classes: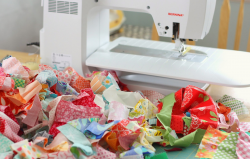 Scrap Masters Club
(join any time! Next meeting 3/28 at 6:30pm. March's scrap bag swap color is
GREEN
!)
First Friday with Connie
April 5 at 6:30pm, must pre-register!
Scrappy Accordion Triangles
with Pam - a great way to use and save scraps you can't bear to part with! Turn them into half-square trianges with *no waste*! April 2 & 9!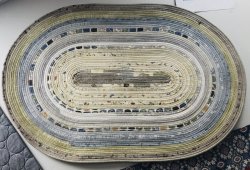 Jelly Roll Rug
- back by popular demand! April 6 & 13! (Imagine how this would look in one of those Sweet Pea & Lily Jelly Rolls!) You can see a beautiful example of a happy student and her jelly roll rug finished project on our Instagram and Facebook!
Enjoy the warmer temperatures, and happy sewing!
~ Kim