Hello Friends!
Here at Quilter's JEM we have declared it Spring - yesterday the temperature climbed to 60 degrees, we had rain instead of snow, and the grass is clearly thinking about greening up. Plus, the new kit from Quilts of Iceland, our All Weather Friend Glacial Ice kit, is *so* dang summery and cheerful! (And check out how beautifully the quilting shows up on that turquoise back!)
This one, which uses the Stripology Squared ruler - is the first in a series of kits we're working on from the
Quilts of Iceland
book, by Gudrun Erla.
The book itself is gorgeous, full of beautiful photos of quilts, of Iceland, and also delicious recipes! If you already have the book but haven't made anything from it yet, these kits are a perfect place to start. I'll show you another one next week!
We also have Gudrun's new book,
Stripology Mixology
! This book has dynamic quilt patterns and more recipes (this time for cocktails!)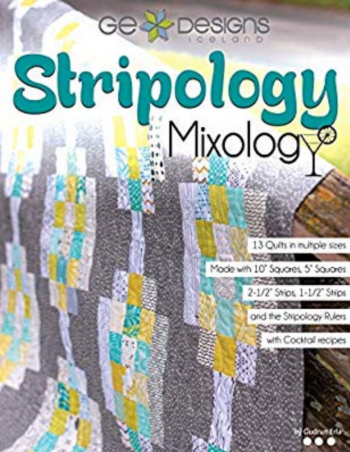 Another new book: Edyta Sitar's
Sew in Love
, a book of blocks and projects perfect for anyone looking for a block of the month type project.
New fabric in the shop includes bolts from Morris Garden from Moda and the V&A Museum. William Morris (1834-1896) was a major contributor to the British Arts & Crafts Movement, perhaps best known outside textile circles for saying, "
Have nothing in your house that you do not know to be useful, or believe to be beautiful.
" How lucky that quilts fit both those parameters!
I want to revisit the beautiful Bee Joyful fabrics I told you about earlier, to show you two projects that use them. The first uses the panels, too, in these two blocks from the Lattice Work pattern by Coach House Designs - so elegant and lovely!
And also this pillow - kits for the top available in the shop!
Our JEM of the week is a layer cake of Machi, this week $35.00, regularly $38.99. We have coordinating bolts, and a great pattern too!
Upcoming classes:
First Friday with Connie
May 3 at 6:30pm, must pre-register!
Machine Quilting on Your Home Machine
with Lorraine,
April 30th 6-9pm
Coming in JULY! Stella Block with Jennifer Halbur! July 16 & 17, 6-9pm. Save the dates!
Happy sewing!
~ Kim