Skip Navigation
Website Accessibility
News from Quilter's JEM for the Week of 5/8/19

1525 Central Ave NW / East Grand Forks, MN 56721 / (218) 339-0159 / www.quiltersjem.com
Hello Friends!
Mother's Day is coming, and while we do offer gift certificates that your loved ones can purchase for you...we also have something special for those who want to buy themselves something fabulous! Now through Saturday, May 11, 2019 when your purchase totals $100 or more, you'll receive a free 1300m spool of Aurifil thread - your choice of color! *You don't have to be a mother to take advantage of this special!
I have some really lovely things to show you this week, and I am going to dive right in to the new line from BasicGrey that has all of us here at Quilter's JEM just giddy with love! Here is Nova!
Whether you are looking forward to summer travel and camping or sitting on the patio with a cool beverage, Lewis & Irene have a fabric line for you! Here is Littondale and Cocktail Party! (And there is nothing stopping you from mixing your camping and cocktails, either.)
If you are looking for some modern prints to add to your stash, Paintbrush Studio's Abstract Collage is here for you. We have four bolts from this bold collection.
Now, maybe you are the kind of person who likes to plan ahead and you are itching to start a Halloween project? If so, come in and check out Cheekyville from StudioE! Cute bolts, a haunted house panel, and a kit on the way to boot!
We now have Valdani perle cotton in stock in a variety of beautiful colors, and embroidery makes the perfect take-along project, too.
The JEM of the Week is Stacy Iset Hsu's Best Friends Forever Playhouse - a mega-panel from which you can make a carry-along playhouse, four dolls and their four animal friends, a rug, and a pillow! Usually this panel is $34.99, but this week you can get it for $31.50. Stacy is so great at these panels, and her directions (included as part of the panel!) are clear and easy to follow.
Upcoming classes: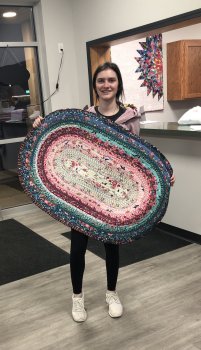 Jelly Roll Rug
with Alana, May 28 & 29 from 9am-1pm
Snowdrop Bag
with Alana, May 21, 1-4pm.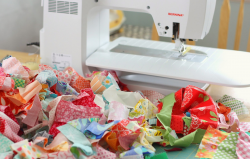 Scrap Masters
with Barb and Jan, 4th Thursday of the month, 6:30-8:30pm (May 23: bring a baggie of scraps in the purple family to swap!). Join us any time!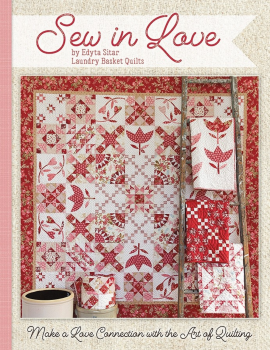 Coming in June!
Sew in Love Block of the Month
with Connie and Barb! This class will use Edyta Sitar's new book. Over the course of 12 months you'll meet to share your blocks and get tips and instructions for the next month. Use the fabrics of your choice to create a beautiful quilt! Learn and practice piecing, applique, and paper piecing skills! First meeting is June 20 at 6:30pm. Class will meet each third Thursday of the month.
First Friday with Connie
June 7 at 6:30pm, must pre-register!
Coming in JULY! Stella Block with Jennifer Halbur! July 16 & 17, 6-9pm. Save the dates!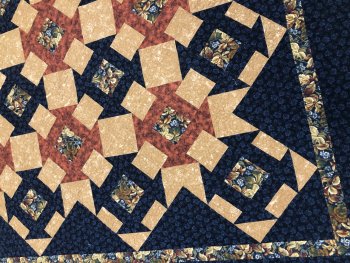 Quilting 201 by Connie for those looking to expand their skills. A four week session beginning June 10th at 6:30pm.
The results from a very fun Snowdrop class! Be sure to register to make your very own.
Happy sewing!
~ Kim