1525 Central Ave NW / East Grand Forks MN 56721 / (218) 399-0159 / www.quiltersjem.com
Hello Friends!
Last week I mentioned that we are halfway through our 100/100 Club sew-along with Tula Pink's City Sampler: 100 Modern Blocks, where we have been sewing five blocks a week. Which means it is time to start thinking about the next Quilter's JEM sew-along club! If you aren't in the 100/100 Club, you might be wondering how this Club thing works.
Each Club works a little differently, but in each case you sign up to participate, buy the book or pattern we're using, and then each week you get a Club Newsletter with photos of the blocks for that week or month, tips and tricks we've learned from making the blocks, and other related news.
Our next sew-along will be the Summer Moon BOM Club, and we will be using Carrie Nelson's Summer Moon book. We'll have fabric bundles available in many different colorways - plus a special offer of 10% off your bundle if you buy the book at the same time! You'll choose your own background - scrappy neutrals would be lovely, or a solid. The Summer Moon BOM Club will run late July through June 2020, and Club members will receive a monthly newsletter just for them.
Are you planning on learning a new technique this summer? We are! A couple of us here at the shop are working on reverse applique starter projects using the method in the Tilda book Sewing by Heart. Below are a couple photos, and watch our Instagram and Facebook pages for a short video!
Our JEM of the week is the Wild & Whimsy Panel - usually $9.99, but this week $8.99!
You may have noticed that, due to a technical glitch, fabrics disappeared from our online shop (oh no!), but now they are slowly but surely making their way back up there (whew!). Remember that we also have the option to order and pay online and then pick up for free in the shop!
Upcoming classes: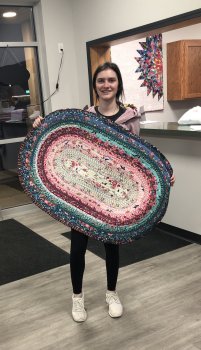 Jelly Roll Rug
with Alana, a two-session class offered June 5 & 12 from 1-5pm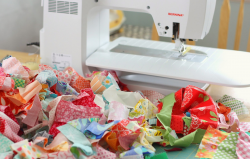 Scrap Masters
with Barb and Jan,
4th Thursday of the month, 6:30-8:30pm
(May 23: bring a baggie of scraps in the pink or purple family to swap!). Join us any time!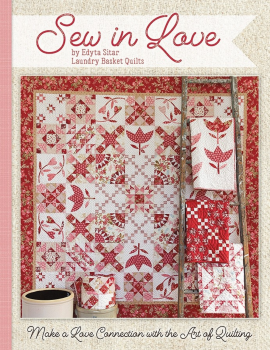 Coming in June!
Sew in Love Block of the Month
with Connie and Barb! This class will use Edyta Sitar's new book. Over the course of 12 months you'll meet to share your blocks and get tips and instructions for the next month.
Use the fabrics of your choice to create a beautiful quilt! Learn and practice piecing, applique, and paper piecing skills!
First meeting is June 20 at 6:30pm
. Class will meet each third Thursday of the month.
First Friday with Connie
June 7 at 6:30pm, must pre-register!
Coming in JULY! Stella Block with Jennifer Halbur! July 16 & 17, 6-9pm. Save the dates!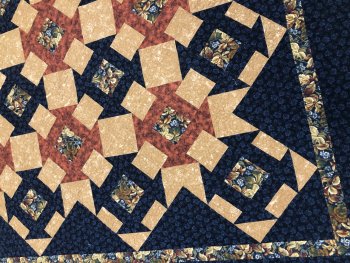 Quilting 201
by Connie, for those looking to expand their skills. A four week session
beginning June 10th at 6:30pm
.
Quilting 101
by Connie has two new 8 week sessions
beginning June 3rd (afternoon session) and July 23rd (evening session).
Check the Website for more class offerings!
Happy sewing!
~ Kim