Skip Navigation
Website Accessibility
Quilter's JEM 100/100 Club - Week 11 (blocks 51-55)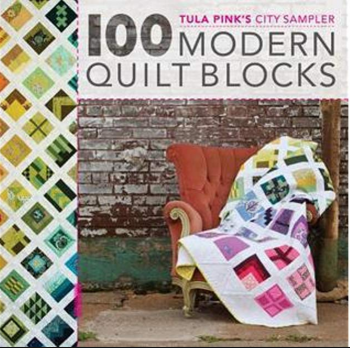 Hello friends!
This week finds us at the end of the Triangles - I will be sad to say goodbye to these pointy fellows! Have you been naming your blocks as Tula Pink suggests? Sometimes I do, and sometimes I don't, but this week I'm going to tell you what I've been calling these blocks. (There have been a couple along the way whose names have been unprintable, but these are all socially acceptable!)
Block 51 - "Going up, going down" - this block is similar to blocks 43 and 44, which were favorites of mine already!
Block 52 - "HST flip!" - another chance to play with print/solid pairings.
Block 53 - "Look here" - this plock reminds me of those pointy Post-It tabs you can use to mark a signature line or important paragraph.
Block 54 - "Divided by geese" - I like the idea of using a large scale print on the left, a small scale on the right, and a solid for the geese. But I also like the idea of using the same print in different colorways on the left and right, still with a solid or semi-solid in between.
Block 55 - "Drifting clouds" - admittedly, clouds are not usually diamond shaped, but there's something about this block that makes me think of lying in the grass watching clouds drift by. Maybe it's not the block; maybe it is the time of year!
Alana's Blocks. Kim's Blocks.
Next up will be the Stripes chapter! Some of these blocks are reminiscent of the Rectangles chapter, and many look like they will go together pretty quick!
Happy sewing!
~ Quilter's JEM