Skip Navigation
Website Accessibility
News from Quilter's JEM for the week of 5/30/19

1525 Central Ave NW / East Grand Forks MN 56721 / (218) 399-0159 / www.quiltersjem.com
Hello Friends!
Oh these Upper Midwest mild late spring/early summer nights are really ideal, aren't they, with that perfect shade of blue? I have really been enjoying sitting outside in the early evening listening to the birds and paging through quilt books, planning new projects!
We are all about new projects right now. We have new quilt kits in the works, new classes coming up, and we are keeping the elves busy with super secret holiday projects for our August event: A Minnesota Christmas Comes to Quilter's JEM (August 1-15)! Here is a little sneak peek at one of the new bolts we will have:
We are now carrying the 33.8 size of Best Press refills, in assorted scents.
Best Press works great with the new mister spray bottles! We have lovely pink ones from Riley Blake, and also plain white ones (maybe you have a vinyl sticker that would be perfect for your bottle?).
Our
Summer Moon Quilt-Along
will be starting up in August - sign ups are open and we have the book and FQ bundles in lots of different styles - modern, traditional, vintage, neutral, you name it! Join the club for weekly emails with tips and examples!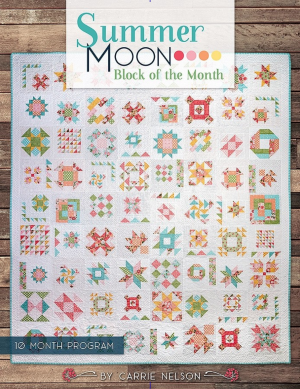 Shop hopping this summer?
If you and your friends or small group are shop hopping this summer, be sure to let us know you plan to stop by the shop - we would love the chance to plan something fun for you!
---
New classes:
Reverse Applique Pillow with Jan! Make this beautiful pillow from Tilda Fabric's Sewing by Heart book - learn a fun new technique! Class is 7/11, 1-5pm. Come in and see the sample!
We'll also have an embroidery class starting soon! Details are in the works!
---
Upcoming classes: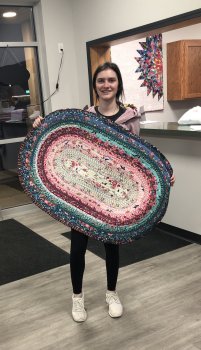 Jelly Roll Rug
with Alana, a two-session class offered June 5 & 12 from 1-5pm (you can be just as happy with your finished rug as this class participant is!). What does it look like when a Jelly Roll Rug class is in session? Like this: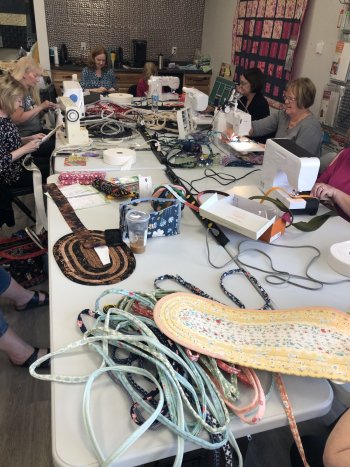 Snowdrop Bag
with Alana, June 18, 10am-2pm
Quilting on Your Home Machine
with Lorraine, June 18, 6-8pm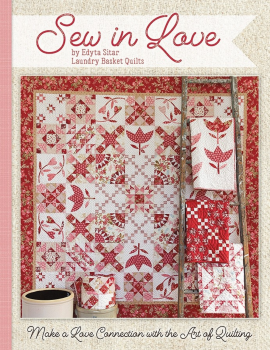 Sew in Love Block of the Month
with Connie and Barb! This class will use Edyta Sitar's new book. Over the course of 12 months you'll meet to share your blocks and get tips and instructions for the next month.
Use the fabrics of your choice to create a beautiful quilt! Learn and practice piecing, applique, and paper piecing skills!
First meeting is June 20 at 6:30pm
. Class will meet each third Thursday of the month.
Coming in JULY! Stella Block with Jennifer Halbur! July 16 & 17, 6-9pm. Save the dates!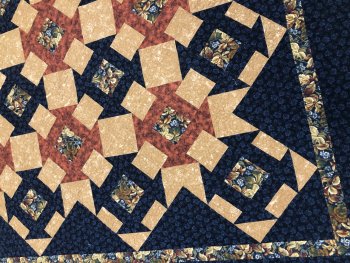 Quilting 201
by Connie, for those looking to expand their skills. A four week session
beginning June 10th at 6:30pm
.
Quilting 101
by Connie has two new 8 week sessions
beginning June 3rd (afternoon session) and July 23rd (evening session).


---
Ongoing classes

(classes that happen recurrently and/or that can be joined at any time)

:

First Friday with Connie June 7 at 6:30pm, must pre-register!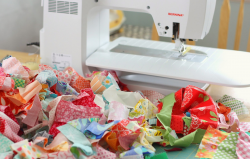 Scrap Masters
with Barb and Jan,
4th Thursday of the month, 6:30-8:30pm
(June 27: bring a baggie of scraps in the pink or purple family to swap!). Join us any time!
Happy sewing!
~ Kim