1525 Central Ave NW / East Grand Forks MN 56721 / (218) 399-0159 / www.quiltersjem.com
Hello Friends!
Summer is here, and with it comes our summer hours! We will be open 10-5:30 Monday-Friday, just as we usually are, but on Saturday we will be changing our hours to 10am-3pm. We will still be closed on Sundays.
Doesn't summer make you nostalgic for when you were a kid? Remember that delicious release from the school year schedules, spending the day playing with your best friend, and being outside for as long as possible? Stacy Iset Hsu's Best Friends Forever line reminds me of those days! Charm packs of Best Friends Forever are the JEM of the Week this week - usually $9.99, but this week $8.99! And we have terrific coordinates for this charm pack, too!
We just cut these beautiful bundles of soft red, white, and blue plaids - the bundles contain 5/8 yds of each fabric which makes it perfect for a 63"x77" Rag Time quilt. Can you imagine a better 4th of July picnic quilt??
We have Crystal Manning's Penny Lane pattern, shown here done in the bright happy colors of her Growing Beautiful line.
We also have kits for the X and + pattern, and the sample is in progress!
Quilter's JEM has been open long enough to generate some scrap bundles! Come and see which one you fall in love with!
New this week is Adventure Awaits from Clothworks, including a panel full of such truths as "Coffee tastes better at the cabin" - which is also true of campsites! We also have coordinating bolts from this fun, outdoorsy line.
Last week I gave you a sneak peek of one of the Christmas fabrics we'll be unveiling at our A Minnesota Christmas Comes to Quilter's JEM event, August 1-15. Here is another one, this time from a finished project that would be so beautiful beneath your tree!
Our
Sew in Love Quilt-Along
starts later this month! More details below in the class listings!
Be sure to check the class listings below, especially if you are interested in learning to quilt using your home machine (6/19)!
Our
Summer Moon Quilt-Along
will be starting up in August - sign ups are open and we have the book and FQ bundles in lots of different styles - modern, traditional, vintage, neutral, you name it! Join the club for weekly emails with tips and examples!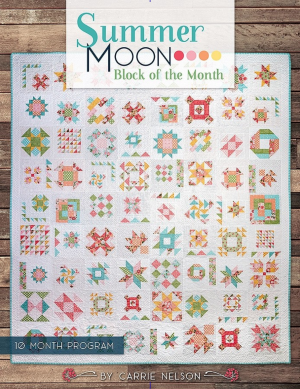 Shop hopping this summer?
If you and your friends or small group are shop hopping this summer, be sure to let us know you plan to stop by the shop - we would love the chance to plan something fun for you!
---
Upcoming classes:
Reverse Applique Pillow
with Jan! Make this beautiful pillow from Tilda Fabric's Sewing by Heart book - learn a fun new technique! Class is 7/11, 1-5pm. Come in and see the sample!
We'll also have an embroidery class starting soon! Details are in the works!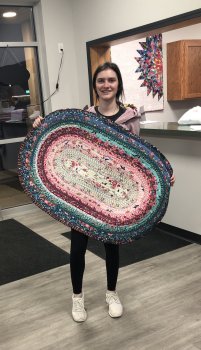 Jelly Roll Rug
with Alana, a two-session class offered June 5 & 12 from 1-5pm (you can be just as happy with your finished rug as this class participant is!). What does it look like when a Jelly Roll Rug class is in session? Like this: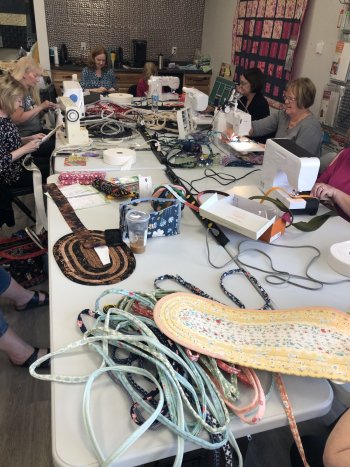 Snowdrop Bag
with Alana, June 18, 10am-2pm
Quilting on Your Home Machine
with Lorraine, June 18, 6-8pm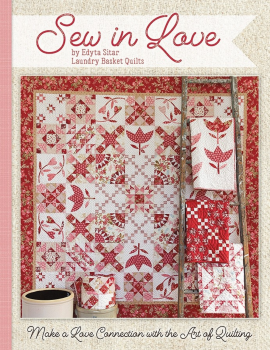 Sew in Love Block of the Month
with Connie and Barb! This class will use Edyta Sitar's new book. Over the course of 12 months you'll meet to share your blocks and get tips and instructions for the next month.
Use the fabrics of your choice to create a beautiful quilt! Learn and practice piecing, applique, and paper piecing skills!
First meeting is June 20 at 6:30pm
. Class will meet each third Thursday of the month.
Stella Block
with Jennifer Halbur! July 16 & 17, 6-9pm. Save the dates!
Also coming in JULY:
Improv Elements
with Colleen Carlson! July 13, 10am-4pm!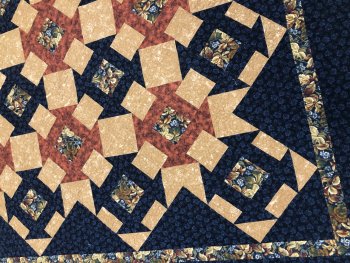 Quilting 201
by Connie, for those looking to expand their skills. A four week session
beginning June 10th at 6:30pm
.
Quilting 101
by Connie has two new 8 week sessions
beginning June 3rd (afternoon session), June 4th (evening session) and July 23rd (evening session).


---
Ongoing classes

(classes that happen recurrently and/or that can be joined at any time)

:

First Friday with Connie June 7 at 6:30pm, must pre-register!
Note: There will be no First Friday in July!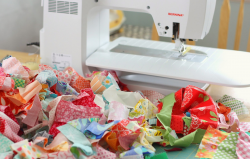 Scrap Masters
with Barb and Jan, the
4th Thursday of the month, 6:30-8:30pm
(June 27: bring a baggie of scraps in the pink or purple family to swap!). Join us any time!
Happy sewing!
~ Kim