1525 Central Ave NW / East Grand Forks MN 56721 / (218) 399-0159 / www.quiltersjem.com
Hello Friends!
Happy 4th of July! Just a reminder - we are closed the 4th, but open again on the 5th!
In honor of our national holiday, our JEM of the week is doubly exciting - Moda's Land That I Love panel is $7.99 this week (regularly $8.99), and our Land That I Love Finished Quilt is $99.50.
The weather is definitely in summer mode, but for sewing you may be already looking ahead to fall. If so, you'll want to come check out BasicGrey's new line Hallo Harvest. This is a gorgeous line that straddles the Halloween-Autumn-Thanksgiving continuum with harvest colors, autumn flowers, and the Halloween motifs we love (spiders, webs, and skulls, oh my!)
We have a new kit that uses the beautiful blue Boro fabrics and sashiko squares (use them plain, or stitch them - up to you!). This Boro Tablerunner was designed and made by Barb, and you will definitely want to look at the big stitch sashiko-style quilting on the shop sample!
Remember I told you we were going to make a rag time quilt in the shop from those red, white, and blue plaids? Well, that is still on, but first we had to make a project from the cutting scraps! We made this rag time pillow to go with the quilt, and it is so SNUGGLY I can barely stand it!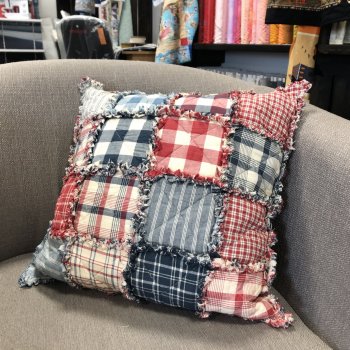 Save the Dates!
August 1-15 A Minnesota Christmas comes to Quilter's JEM! The shop will be filled with holiday fabric, projects for your home and for gifting, decorations, treats, and Christmas cheer!
Our
Summer Moon Quilt-Along
will be starting up in August - sign ups are open and we have the book and FQ bundles in lots of different styles - modern, traditional, vintage, neutral, you name it! Join the club for weekly emails with tips and examples!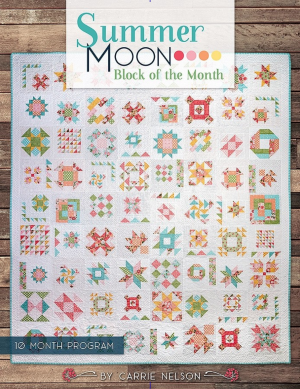 Upcoming classes:
No dates set yet, but if you've ever wanted to make a
Lone Star
quilt, keep an eye out for our upcoming class!
Reverse Applique Pillow
with Jan! Make this beautiful pillow from Tilda Fabric's Sewing by Heart book - learn a fun new technique! Class is
July 11, 1-5pm.
Come in and see the sample!
We'll also have an embroidery class starting soon! Details are in the works!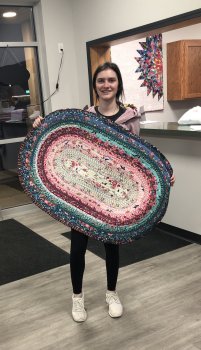 Jelly Roll Rug
with Alana -
July 10 and 17, 10-2pm
. This is a two-session class and you can be just as happy with your finished rug as this class participant is! What does it look like when a Jelly Roll Rug class is rolling along? Like this: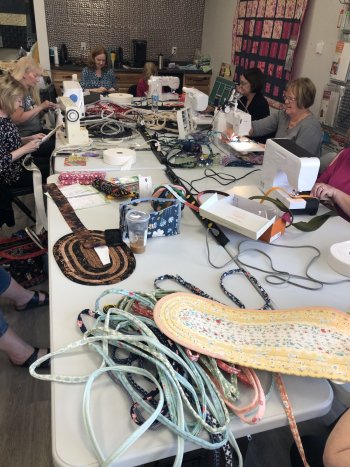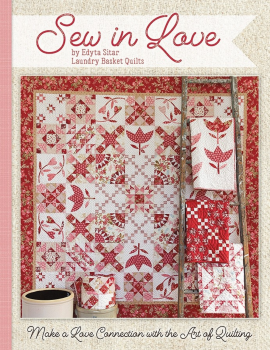 Sew in Love Block of the Month
with Connie and Barb! This class will use Edyta Sitar's new book. Over the course of 12 months you'll meet to share your blocks and get tips and instructions for the next month.
There's still time to join!
Use the fabrics of your choice to create a beautiful quilt! Learn and practice piecing, applique, and paper piecing skills! Class will meet each third Thursday of the month, but will be taking July off.
Stella Block
with Jennifer Halbur!
July 16 & 17, 6-9pm
. Save the dates! Would be very beautiful made with some of our new Christmas fabrics that will be arriving soon!
Improv Elements
with Colleen Carlson!
July 13, 10am-4pm!
Learn to Sew!
This class will teach the basic skills needed to use your sewing machine and follow written directions to make a pattern or two. You'll need a working sewing machine. We'll have a class for youth ages 11 and up and one for adults. Class will meet
Wednesdays, July 24, 31, August 7, and 14,
from 3-5 for youth and 6-8 for adults. Here is a great chance to get a friend or young person involved in your favorite hobby! Supply list provided at registration.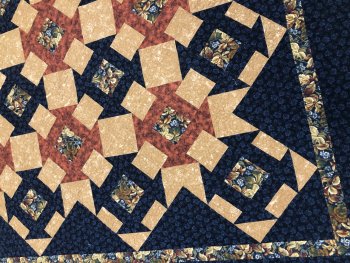 Quilting 201
by Connie, for those looking to expand their skills. A four week session
beginning July 29th at 6:30pm
. Class dates: 7/29, 8/5, 8/19, 8/26,
Quilting 102
with Connie, an 8-week class that takes you through making a quilt from choosing the fabric to finishing the binding. Begins
July 22nd (1:30pm) or
the evening class and begins
July 23rd (6:30pm).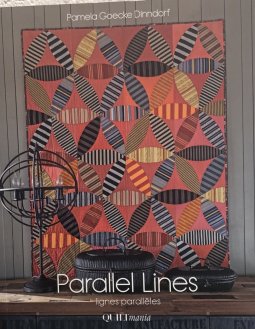 October 27th: Pam Dinndorf!

A full day class on a project from Pam's Parallel Lines book, lunch included!
---
Ongoing classes

(classes that happen recurrently and/or that can be joined at any time)

:

First Friday with Connie June 7 at 6:30pm, must pre-register!
Note: There will be no First Friday in July!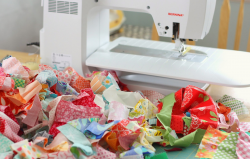 Scrap Masters
with Barb and Jan, the
4th Thursday of the month, 6:30-8:30pm
- but we are taking July off! See you in August! Join us any time!
Happy sewing!
~ Kim