Skip Navigation
Website Accessibility
News from Quilter's JEM for the week of 7/25/19

1525 Central Ave NW / East Grand Forks MN 56721 / (218) 399-0159 / www.quiltersjem.com
Hello Friends!
A Minnesota Christmas comes to Quilter's JEM
is only a week away!
August 1-15 we will (finally!) unveil all our new Christmas and winter fabrics - there is something for everyone, from elegant to folksy, classic to contemporary! New kits and samples, too! Visit us and register for prize drawings! Watch your email for more information!
I have so much beautiful new fabric to share with you this week! Here in northern Minnesota, the woods and lakes are never far from our thoughts and in summer they kind of take over. But I don't think that is the only reason Woodland Wonders from Studio E has captured my heart - it is also gorgeous! We have the panel and bolts below, and also more bolts from the line. I can't resist showing you more than one or two photos of this line!
We have an adorable new kit coming that uses this whimsical panel and coordinating bolts from Studio E's Fairyland!
For a limited time we have available an amazing assortment of dolls, pumpkins, and more from Country Stitchin N Stuff - here's a sample of what we have now (oh that sheep!):
These bolts of puppy-themed fabric would make the cutest 4-patch quilt for the puppy lover in your life, plus we have the flannel below for the perfect backing!
New wide back!
Two colorful butterfly fabrics - great for any bright project, but especially for fabric collage quilts! You'll find it near our Laura Heine fabrics!
Our JEM of the Week is Lewis & Irene's Cocktail Party - think of the fantastic table runners you can make for summer entertaining! This week $9.99/yd (usually $11.99)!
Starting Soon!
Our
Summer Moon Quilt-Along
will be starting up in August - sign ups are open and we have the book and FQ bundles in lots of different styles - modern, traditional, vintage, neutral, you name it! Join the club for weekly emails with tips and examples! We'll also have quarterly meetings for show & tell and sharing progress, plans, and tips!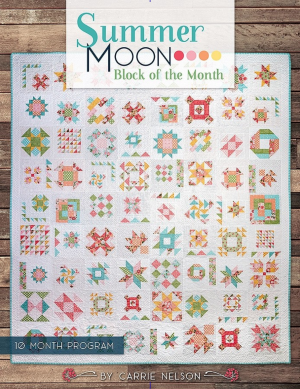 ***Many classes that meet monthly are taking July off - check below!***
Upcoming classes:
No dates set yet, but if you've ever wanted to make a
Lone Star
quilt, keep an eye out for our upcoming class!
We'll also have an embroidery class starting soon! Details are in the works!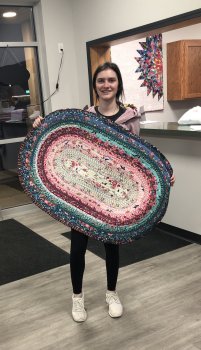 Jelly Roll Rug
with Alana -
next session coming soon
. This is a two-session class and you can be just as happy with your finished rug as this class participant is! What does it look like when a Jelly Roll Rug class is rolling along? Like this: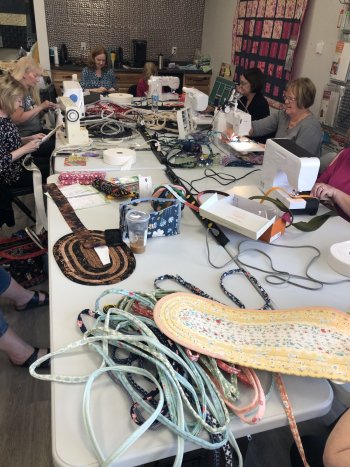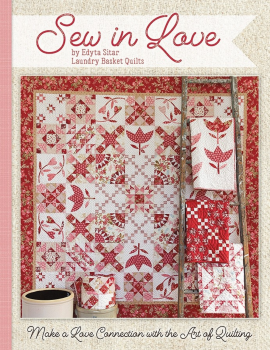 Sew in Love Block of the Month
with Connie and Barb! This class will use Edyta Sitar's new book. Over the course of 12 months you'll meet to share your blocks and get tips and instructions for the next month.
There's still time to join!
Use the fabrics of your choice to create a beautiful quilt! Learn and practice piecing, applique, and paper piecing skills! Class will meet each third Thursday of the month, but will be taking July off.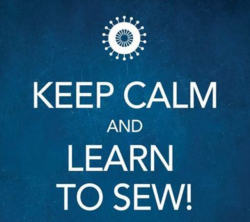 Learn to Sew!
This class will teach the basic skills needed to use your sewing machine and follow written directions to make a pattern or two. You'll need a working sewing machine. We'll have a class for youth ages 11 and up and one for adults. Here is a great chance to get a friend or young person involved in your favorite hobby! Supply list provided at registration. Dates coming soon!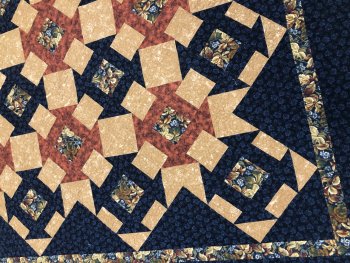 Quilting 201
with Connie, for those looking to expand their skills. A four week session
beginning July 29th at 6:30pm
. Class dates: 7/29, 8/5, 8/19, 8/26,
Quilting 102
with Connie, an 8-week class that takes you through making a quilt from choosing the fabric to finishing the binding. Begins
Aug 5th (1:30pm) or
the evening class and begins
July 23rd (6:30pm).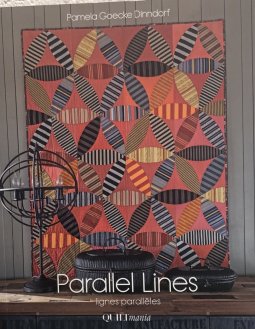 Sunday, October 27th: Pam Dinndorf!

A full day class on a project from Pam's Parallel Lines book, lunch included!
---
Ongoing classes

(classes that happen recurrently and/or that can be joined at any time)

:

First Friday with Connie August 2 at 6:30pm, must pre-register!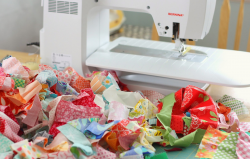 Scrap Masters
with Barb and Jan, the
4th Thursday of the month, 6:30-8:30pm
- but we are taking July off! See you in August! Join us any time!
Happy sewing!
~ Kim