Skip Navigation
Website Accessibility
News from Quilter's JEM for the week of 8/14/19

1525 Central Ave NW / East Grand Forks MN 56721 / (218) 399-0159 / www.quiltersjem.com
Hello Friends!
Our Minnesota Christmas is wrapping up this week - thank you to everyone who came to help us celebrate the unveiling of our holiday kits and fabrics! Don't worry - we will still have Christmas kits and fabrics in the shop after it ends! I don't know about you, but I probably should be starting my holiday sewing early, if I want to avoid 2am sewing in December.
Are you ready for back to school? Have you decided what class you are going to take? Scroll down to the end of the newsletter to see our upcoming classes! Taking a class is a great way to meet new quilting friends, learn a new skill, have an excuse to start a new project, or make sure you get a good start on a project!
These adorable hexie placemats would be a breeze to make for holiday meals, and we've got you covered from Halloween to Valentine's Day!
New laundry-themed fabric, Loads of Fun, a panel and coordinating bolts, plus patterns for making an ironing board cover and a drawstring laundry bag (perfect for students heading off to college!).
If you have a dog lover in your life, here is a print that would make adorable pillowcases!
Here's a look at one of our longarm quilting patterns: planets, rockets, and stars, oh my!
JEM of the week is the Tilda Sunshine Sewing book - lots of terrific projects in here! One thing we at Quilter's JEM love about the Tilda books is that they include all kinds of projects: quilts, pillows, softies, pin cushions, bowls, and more! Sunshine Sewing is regualrly $17.99, but this week it is $15.00!
Summer Moon Quilt-Along Kick Off meetings!
We're having a kick off meeting for our quilt-along - come to any one of the three times scheduled (if you can't make it to one, that's okay too!). Times and dates are: 8/26 at 1pm, 8/27 at 5:30pm, and 9/14 at 11am.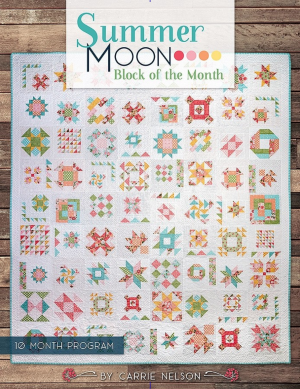 We are getting ready to start up our
Summer Moon Quilt-Along
in the last week of August - sign ups are open! All you need to play along is a book, a bundle of FQs, and some background fabric.
We have the book and FQ bundles in lots of different styles - modern, traditional, vintage, neutral, you name it! We'll have quarterly meetings to share blocks and progress, but this is primarily a sew-on-your-own event, with weekly emails in your inbox full of pep talk, tips, and examples! Give us a call, send an email, or stop in to sign up!
Upcoming classes:

Machine Quilting on Your Home Machine
with Lorraine, Wednesday 8/21, 6-8pm ($20). Supply list available when you register for this fun and informative class!
Coming in September...if you've ever wanted to make a
Lone Star
quilt, keep an eye out for our upcoming class!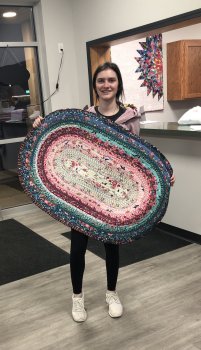 Jelly Roll Rug
with Alana -
next session coming in September
. This is a two-session class and you can be just as happy with your finished rug as this class participant is! What does it look like when a Jelly Roll Rug class is rolling along? Like this: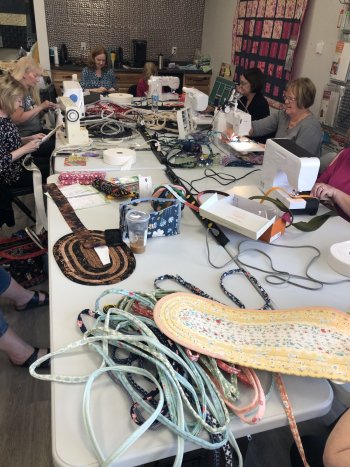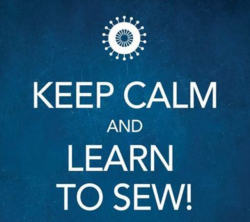 Learn to Sew!
This class will teach the basic skills needed to use your sewing machine and follow written directions to make a pattern or two. You'll need a working sewing machine. We'll have a class for youth ages 11 and up and one for adults. Here is a great chance to get a friend or young person involved in your favorite hobby! Supply list provided at registration. Dates coming soon!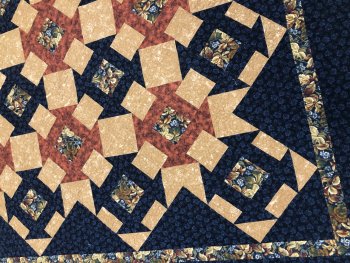 Quilting 201
with Connie, for those looking to expand their skills. New sessions coming this fall!
Quilting 102
with Connie, an 8-week class that takes you through making a quilt from choosing the fabric to finishing the binding. New sessions coming this fall!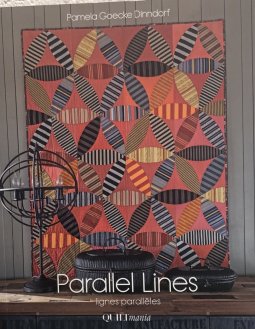 Sunday, October 27th: Pam Dinndorf!

A full day class on a project from Pam's Parallel Lines book, lunch included!
We are so pleased to be able to offer a class on Sunday 10/27 with Quilting on the Red quilt show presenter Pamela Goecke Dinndorf. This will be an all day class, lunch provided, on the cover project from her Parallel Lines book. All the projects in this book are stunning, and we can't wait to learn more about using stripes to create dynamic quilts! Be sure to register soon; spots are being claimed!
---
Ongoing classes

(classes that happen recurrently and/or that can be joined at any time)

:

First Friday with Connie September 6 at 6:30pm, must pre-register!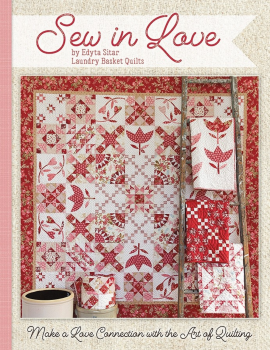 Sew in Love Block of the Month
with Connie and Barb! This class will use Edyta Sitar's new book. Over the course of 12 months you'll meet to share your blocks and get tips and instructions for the next month.
Next meeting: August 15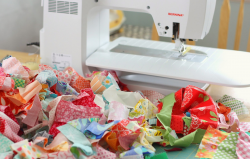 Scrap Masters
with Barb and Jan, the
4th Thursday of the month, 6:30-8:30pm
($5 per session) - next meeting is August 22. Join in the fun anytime!
Happy sewing!
~ Kim