Skip Navigation
Website Accessibility
News from Quilter's JEM for the week of 10/9/19

1525 Central Ave NW / East Grand Forks MN 56721 / (218) 399-0159 / www.quiltersjem.com
ONE DAY ONLY!
BERNINA SUPER SATURDAY SALE!
OCTOBER 12, 2019.
72-MONTH INTEREST FREE FINANCING ON SELECT MACHINES!
Hello Friends!
If you are local to us here in East Grand Forks, MN, you know we are on the cusp of what is predicted to be a very big winter storm. And while we know none of us needs more water in - or on - the ground right now...we are interested in some uninterrupted sewing time. Because there is a lot of gorgeous new fabric calling our name! Come in and see what speaks to you - or browse online! Fabric is so powerful, it can call to you over the internet!
We have bolts of Icon Elements and Decostitch from Art Gallery in a range of gorgeous colors. Look at that bundle of Decostitch with a few FQs of Icon Elements - beautiful!
We also have a bolt of knit fabric from Art Gallery, Hazy Daisies! Do you know how easy and fun it is to make a pair of leggings on your serger?
From FreeSpirit we have bolts from the Land Art collection
And from Lewis & Irene, bolts from two collections. Small Things - World Animals
and (calling all hedgehog lovers!) Under the Oak Tree
Looking for a quick project? You can't do much better than a Dayhike quilt - Kathy Schmitz's Home line with a red accent would be perfect!
JEM of the Week: Adventure Awaits panel, regularly $8.99, this week $7.99!
Upcoming classes:

Suit Bag with Maxine McNeece!
Saturday, November 2
, 12-6pm - Yes, this bag is made from a suit! You have to come in and see all the samples!
Mod TV Pillow with Colleen!
Saturday, November 16
, 10am-1pm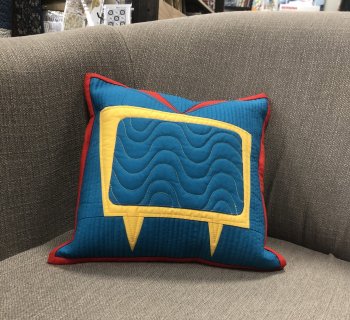 Improv Elements with Colleen - come learn this fun and modern technique!
Saturday, November 23
, 9am-3pm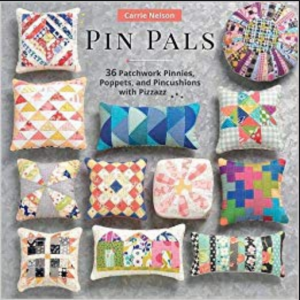 Pincushion Party!
We had so much fun in September! Sign up soon if you'd like to join us
October 14 from 6-9pm
. This class meets monthly and uses the book Pin Pals to make a variety of pincushions that are fun and practical. Bring your sewing machine and we provide all the materials you need to complete your pincushion for the month! There might even be surprises along the way! Think beaded pins...teacup pincushions...! Sign up now to reserve your spot! $20/month.
(October's project is this spooky-fun pincushion! Remember - all supplies are included - just bring your machine and your tools!)
Daphne bag
with Pam! This handbag features an exterior accent, faux piping, zipper closure, an adjustable crossbody strap, two interior pockets, and optional rivets - plus, learn tips for sewing with cork fabric! We have complete kits available! Class meets 3 times and will be scheduled in November.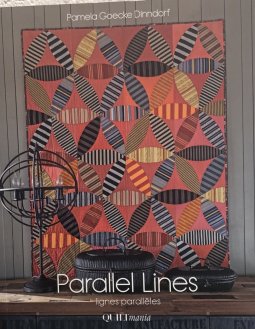 Sunday, October 27th: Pam Dinndorf!

A full day class on a project from Pam's Parallel Lines book, lunch included!
We are so pleased to be able to offer a class on Sunday 10/27 with Quilting on the Red quilt show presenter Pamela Goecke Dinndorf. This will be an all day class, lunch provided, on the cover project from her Parallel Lines book. All the projects in this book are stunning, and we can't wait to learn more about using stripes to create dynamic quilts! Be sure to register soon; spots are being claimed!
---
Ongoing classes

(classes that happen recurrently and/or that can be joined at any time)

:

First Friday with Connie November 1 at 6:30pm, must pre-register!
BERNINA SUPER SATURDAY SALE! OCTOBER 12, 2019. ONE DAY ONLY! 72-MONTH INTEREST FREE FINANCING ON SELECT MACHINES!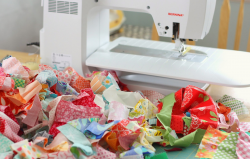 Scrap Masters
with Barb and Jan, usually the
4th Thursday of the month, 6:30-8:30pm
($5 per session) -
due to the Quilting on the Red quilt show and upcoming holidays, we will be taking a break until January
.
Happy sewing!
~ Kim