Skip Navigation
Website Accessibility
News from Quilter's JEM for the week of 11/6/19

1525 Central Ave NW / East Grand Forks MN 56721 / (218) 399-0159 / www.quiltersjem.com
Hello Friends!
I saw something chilling on Instagram yesterday: there are only seven weekends between us and Christmas.
How many of us depend on weekend time to make big progress on our sewing projects? How many of us have already started our Christmas sewing projects?
Before you have to change that planned quilt gift to a pillowcase, block out some time to get those projects going! Need inspiration? I might know where you can find some.
Do you have someone on your gift list who loves a retro vibe? The mod TV pillow might be perfect for them! But, also consider the person in your life who loves watching wildlife shows, or hockey games, or any other TV offering for which you can find a novelty fabric - that TV screen doesn't have to be blank! If these ideas have you thinking, call and sign up for Colleen Carlson's Mod TV class,
Saturday, November 16
, 10am-1pm!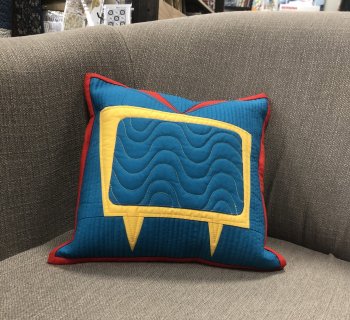 Another place you might find inspiration is in Improv Elements with Colleen - come learn this fun and modern technique!
Saturday, November 23
, 9am-3pm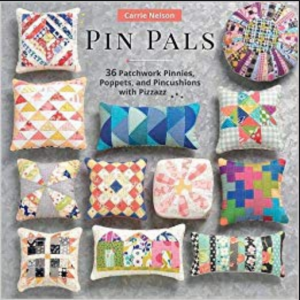 Pincushion Party!
We had so much fun in September! Sign up soon if you'd like to join us
November 11 from 6-9pm
. This class meets monthly and uses the book Pin Pals to make a variety of pincushions that are fun and practical. Bring your sewing machine and we provide all the materials you need to complete your pincushion for the month! There might even be surprises along the way! Think beaded pins...teacup pincushions...! Sign up now to reserve your spot! $20/month.
(November's project is positively adorable! Remember - all supplies are included - just bring your machine and your tools!)
Daphne bag
with Pam! This handbag features an exterior accent, faux piping, zipper closure, an adjustable crossbody strap, two interior pockets, and optional rivets - plus, learn tips for sewing with cork fabric! We have complete kits available!
Class meets 3 times and is scheduled Mondays, November 18, 25 and December 2 from 6pm-9pm.
Machine Quilting with Lorraine
, Tuesday, November 19 from 6-8pm!
Beginning Sewing with Pam
starts soon! Beginning Sewing for Kids starts Saturday 11/30, 9am-noon and Beginning Sewing for Adults starts Saturday 12/14, 9am-noon.
---
Ongoing classes

(classes that happen recurrently and/or that can be joined at any time)

:

First Friday with Connie December 6 at 6:30pm, must pre-register!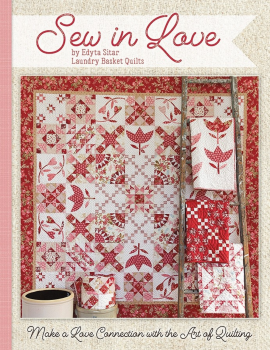 Sew in Love Block of the Month
with Connie and Barb! This class will use Edyta Sitar's new book. We meet to share blocks and get tips and instructions for the next month.
Next meeting: November 21.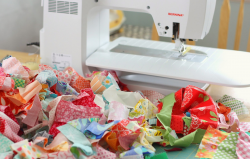 Scrap Masters
with Barb and Jan, usually the
4th Thursday of the month, 6:30-8:30pm
($5 per session) -
due to the Quilting on the Red quilt show and upcoming holidays, we will be taking a break until January
.
Happy sewing!
~ Kim