Skip Navigation
Website Accessibility
News from Quilter's JEM for the week of 11/10/2019

1525 Central Ave NW / East Grand Forks MN 56721 / (218) 399-0159 / www.quiltersjem.com
Hello Friends!
What a week! Feels good to be back above 30 degrees, if only for a little while.
There are lots of fun things going on here at the shop, and we're excited to share some of them with you!
Join us for the AURIFIL COLOR BUILDERS CLUB, a remarkable (and colorful) Italian adventure! From the lemon groves of Sicily to the pink sand beaches of Sardinia to the clear teal waters of Capri and the stark city grey of Milan... each collection is crafted to evoke images of Aurifil's beloved Italian landscape. The colors were selected not only for their aesthetic appeal, but for their practicality in every day use. We think you'll appreciate the Color Builder collections both for their beauty and for their utility. Read the stories, absorb the hues, pick your favorites, and sign up for our 2020 Thread Club today!
Join us for an Italian dessert at our monthly "festa" when we unveil Aurifil's 50 weight thread color of the month in light, medium, and dark. Also, you will receive their secret block of the month pattern. Or, you can pick up your items or have them shipped. Snowbirds included!
The cost is $39.95 per month.
We have been busy at the shop with a few new lines,
First off is Color My World. Cute campers, scooters and bicycles in bright, yet soft, colors. Keep your eye out for a cute baby quilt kit to come!
Next is Explore by Deb Strain for Moda. We have the full line of outdoor themed fabrics and a kit under construction.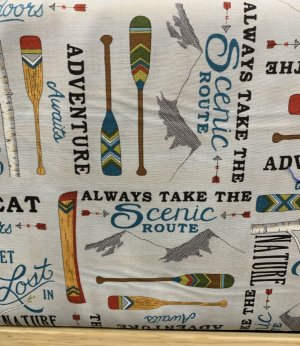 Need a quick Christmas gift? How about this cute ragtime quilt made from French General's Vive la France line! These beautiful wovens are soft and look fantastic. We have the bundles all packaged and ready to go!
Or, we also have adorable Christmas pillow case kits that you can whip up in no time flat!
With holidays fast approaching, remember, we have many finished quilts, beautifully quilted and bound all ready for purchase! We'll never tell!

Classes:
Daphne Bag with Pam on Monday, November 18. 6-9pm
There are three openings available if you would like to make this fun handbag with Pam. The kit includes the pattern and everything you need to complete the bag. Bring your sewing machine and sewing supplies and you'll be already to go!
Improv Elements, a Pattern is Just a Suggestion with Colleen Carlson. Learn how to piece and design blocks without the use of a structured pattern. Each block is unique and entirely your own.
Beginning sewing for kids on Saturday, November 30, from 9 to noon, for ages 8 to 12. Class fee is $10, the project kit is $24.99, and sewing machines are provided. Call 218-399-0159 to register. Space is limited.
The December Pincushion Party Class will be on Monday, December, 11 from 6-9 pm. Bring your sewing machine and sewing supplies; all the materials to finish your pincushion will be provided. Enjoy an evening of coffee, treats, and a fun time visiting with sewing friends!
Naughty or nice-- let Santa know he can place a brand new Bernina Sewing Machine under your tree! Financing available.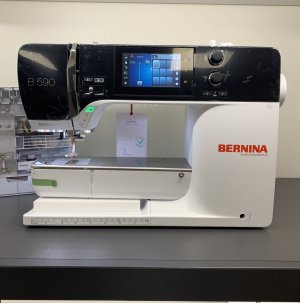 Happy Sewing!
Kim