Skip Navigation
Website Accessibility
News from Quilter's JEM for the week of 11/20/19

1525 Central Ave NW / East Grand Forks MN 56721 / (218) 399-0159 / www.quiltersjem.com
Hello Friends!
Do you feel like we've really entered the holiday season now? I do, but that might be thanks to our snowfall this week in Northwestern Minnesota! We have even more to celebrate, too: next week is our birthday week!
We will be closed for Thanksgiving, but open again on Friday.
From Monday 11/25 through Saturday 11/30 we will be having a birthday sale: 25% off all Christmas fabric and 30% off all Halloween fabric!
If you have quilt tops you want Amy to quilt for you, now is the time to get them in to her! Need backing? We are well-stocked with wide backs and minky in lots of colors!
Now is also the time when we start having those conversations with ourselves about whether our sister is getting a queen-size feathered star quilt this year, or some really nice pillowcases. Just in case - we have new pillowcase kits ready for you, and of course lots of bolts that could easily be turned into your own personal pillowcase kit!
We have a new super quick, super beautiful tablerunner kit that uses a single lovely fabric.
More new fabric, perfect for the horse-lover in your life
or maybe you have a transportation-lover?
And a big gloriously colorful floral from FreeSpirit, with an irresistable co-ordinate!
In Bernina news, the Ultimate Embroidery Event is going on! Plus, currently the 475 and 480 both offer a free BSR (stitch regulator) with purchase!
Come in to learn about other Bernina sales going on right now! Financing available!
November 14-30 we're offering 60 months at ZERO interest (min. $3000), and November 14-December 31 we're offering 48 months at ZERO interest (min. $3000).
Join us for the
AURIFIL COLOR BUILDERS CLUB
, a remarkable (and colorful) Italian adventure! From the lemon groves of Sicily to the pink sand beaches of Sardinia to the clear teal waters of Capri and the stark city grey of Milan... each collection is crafted to evoke images of Aurifil's beloved Italian landscape. The colors were selected not only for their aesthetic appeal, but for their practicality in every day use. We think you'll appreciate the Color Builder collections both for their beauty and for their utility. Read the stories, absorb the hues, pick your favorites, and sign up for our 2020 Thread Club today!
Join us for an Italian dessert at our monthly "festa" when we unveil Aurifil's 50 weight thread color of the month in light, medium, and dark. Also, you will receive their secret block of the month pattern. Or, you can pick up your items or have them shipped. Snowbirds included!
The cost is $39.95 per month.
We still have spaces in two fabulous upcoming classes!
Improv Elements, a Pattern is Just a Suggestion with Colleen Carlson.
Learn how to piece and design blocks without the use of a structured pattern. Each block is unique and entirely your own. Saturday, November 23rd from 9-3.
Beginning sewing for kids on Saturday, November 30
, from 9 to noon, for ages 8 to 12. Class fee is $10, the project kit is $24.99, and sewing machines are provided. Call 218-399-0159 to register. Space is limited. (Parents/guardians welcome to stay during the class, too!)
The December Pincushion Party Class will be on Monday, December, 11 from 6-9 pm. Bring your sewing machine and sewing supplies; all the materials to finish your pincushion will be provided. Enjoy an evening of coffee, treats, and a fun time visiting with sewing friends!
Naughty or nice-- let Santa know he can place a brand new Bernina Sewing Machine under your tree! Financing available.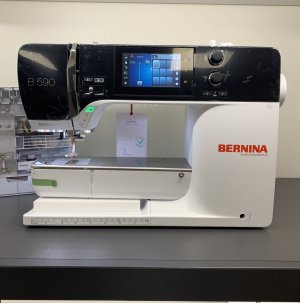 Happy Sewing!
Kim