Quilter's JEM Summer Moon Quilt-Along - Block 5: Hidden Star
Quilter's JEM Summer Moon Quilt-Along 2019-2020
#summermoonquilt #quiltersjem #QJsummermoonQAL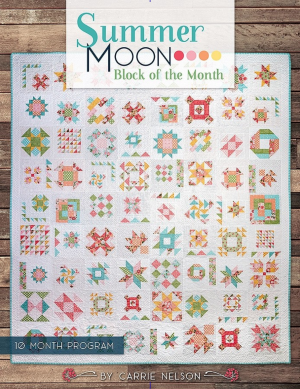 Hello Summer Moon Club!
Have you noticed the gorgeous winter moon this week? It made me think about what this quilt would look like as. Winter Moon quilt in many shades of blue and whites. Well, that's a project that will have to wait until we get through the Summer Moon blocks!
Next up is blocks 5, the Hidden Star (page 32).
HINT! use a more solid looking fabric for you star points. You will notice that mine have gotten a bit lost!
The Hidden Star block is built on the classic Shoofly, or Hole in the Barn Door, block (pictured below).
Small Diamond in a Square blocks take the place of the usual top, bottom, and side plain squares to create the hidden star.
I found a couple other examples online that I want to show you because fabric color, value, and placement can make such a big difference in how this block looks!
Notice how the prominence of the star changes! How will you choose to make your blocks look?
Happy sewing!
~ Quilter's JEM