Quilter's JEM Summer Moon Quilt-Along - Week X
Quilter's JEM Summer Moon Quilt-Along 2019-2020
#summermoonquilt #quiltersjem #QJsummermoonQAL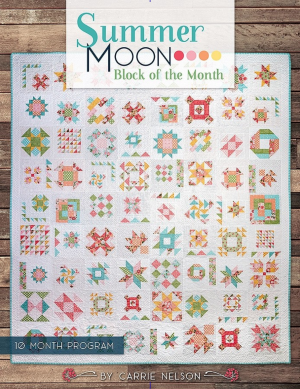 Pinwheel Geese Block is our completed block this week.

I used the Eleanor Burns Method for constructing my Flying Geese. The sew-n-flip method demonstrated in the book also works well. I have used the sew-n-flip method in many of the Flying Geese blocks up to this point.

A sampling of some of my Summer Moon Blocks!
I chose the White Paper Grunge as my background. White is not my typical choice, although this fabric has a hint of yellow in it giving the blocks an almost antique-look. Nova by Basic Grey has been very fun to work with!

Please send pictures of your completed blocks so we can share with the group!

My favorite

Bear's Track Block

is next on the list!

Happy Sewing!

Kim