1525 Central Ave NW / East Grand Forks MN 56721 / (218) 399-0159 / www.quiltersjem.com
Hello Friends!
One way to deal with the cold winds, towers of snow, and realization that we're only about halfway through winter is to dream about summer. Hot sunny days, picnics, ice cream you eat fast before it melts, and warm nights watching fireworks. To help inspire your Fourth of July dreams, we have bolts and a panel from
Truckin' in the USA
. How cute is that doggy in the back of the pickup!?!
Also new this week are selections from
Vineyard
And...

Attention all Kim Diehl fans!!

We just received her new line,

LIBERTY STAR,

so stop by and check it out! I must say, the beautiful reds, creams, and teals look fantastic all lined up on the shelf!!
You know those times when you find yourself hanging out somewhere, just waiting? Maybe for a kid's lesson or sports event to wrap up, or in a doctor's office. Or maybe you like to have something to keep your hands busy while you watch TV? English paper piecing is perfect for times like these, and may be just the thing for you!
It's portable, and is an easy method to learn.
Katja Marek's New Hexagon 2 book in stock now! Don't know how to EPP? Stop by the shop and ask one of us to show you how!
There's still time to book your year-long virtual Italian vacation!
The only vacation that actually builds your thread library!

First meeting:
Meetings will be held the last Thursday of the month with a few exceptions.
There's only 1 spot left,
so if you have been wanting to sign up, now is the time!! You can register
online, or in the store.
Registration closes January 31.


For online registration from the homepage, choose shop>block of the month>aurifil color builders club to register.
The cost is $39.99 per month which includes three1300m spools of Aurifil 50wt thread, a mystery block of the month pattern, and a free gift provided by Quilter's JEM. Then join us each month for an Italian dessert at the thread pickup party. (If you are a snowbird, we will gladly ship the items to you and you can participate in dessert when you return).
We're beginning a 10-month
Mystery Block of the Month
designed by Pat Sloan and there's still time for you to join us!
The First Month's Block!

We still have five different fabric bundles for you to choose from, so stop by the shop or go online to check them out! There will be a pattern for one 12" block each month for a total of 9 blocks, plus setting instructions. The quilt finishes at 58" x 66". After making the first block, I can say that Pat's instructions are well-written and easy to follow!
Bernina News!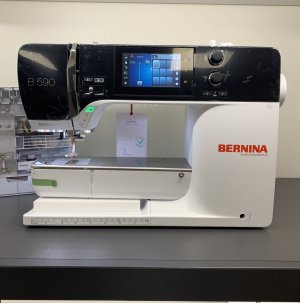 Financing available! on BERNINA machines and accessories!
Upcoming classes
Beginning Quilting
- still time to join!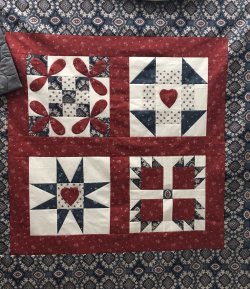 8 week sessions begin
Monday, *January 28 from 1:30-4:30pm, or
Tuesday, January 22 from 6:30-9:30pm.


*Notice date change.





Quilting 201

Expand your quilting skills while making this fun monkey wrench quilt. Flannel works great for this one, resulting in a quilt that is not only beautiful, but especially comfy and cozy.
Wednesdays from 6-9: January 22 & 29, and February 12 & 19.

Beginning Sewing
for adults
starts Saturday, January 25th from 9am-12pm.

Kids
Beginning Sewing
! Starts Saturday, January 25th from 1-4pm.
Machines provided.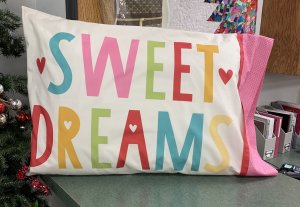 Please check the website for more class schedules!
The February
Pincushion Party Class
is
Monday, February 10, from 6-9 pm.
This month's pinnie is the Fresh Cut Cube. Bring your sewing machine and sewing supplies; all the materials to finish your pincushion will be provided. Enjoy an evening of coffee, treats, and a fun time visiting with sewing friends!
Bazinga! with Jan

Learn a fun technique for making quarter log cabin blocks and make a stack of blocks to use as you please!

Saturday, February 8, 9am-2pm





Ongoing classes

: These classes happen on a recurring basis and can be joined at any time

:
First Friday with Connie
Will not meet in January, but will meet again on February 7.
Sew in Love
Meets the third Thursday of the month at 6:00. Next meeting:
February 20!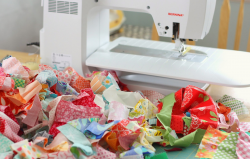 Scrap Masters
with Barb and Jan meets on January 23. It meets the
4th Thursday of the month,
from
6:30-8:30 pm.
($5 per session) Bring a sandwich-size baggie of scraps to swap!
Happy Sewing!
Kim