1525 Central Ave NW / East Grand Forks MN 56721 / (218) 399-0159 / www.quiltersjem.com
Hello Friends!
Beginning today through February 22, we will be having a

"SAMPLE SALE"

30% off all finished quilts!
With Valentine's Day this week, what better way to celebrate love than to spend time doing something you love, for someone you love? There are many great heart block patterns out there in the land of the internet, but my favorite is a simple one from CluckCluckSew that is easy to convert to any size you want!
Here is the link
and here is a photo:
We have lots of gorgeous fabric in pink, red, white, and every combination!
While we are talking about things we love to do, let me show you a close up of our adorable (and easy!) woodland library quilt kit! These forest animals are especially perfect for those just learning to read, but accomplished readers will also find them irresistible!
Here's a look at one corner of the quilt:
Another special highlight today is our Small Animals from Around the World fabric from Lewis and Irene. Terrific I-Spy fabrics for learning animal names in a fun way! Kits coming soon! (What a grin on that crocodile!)
Maybe you have young readers who would also like to be young sewists? Our next kids sewing class is this Saturday, February 15 from 1pm-4pm and the project is these adorable animal pillows - perfect to keep or give to a friend! Sewing machines are provided! See below for more details!
Here's fabric so new we are just now unpacking it: the full map panel (36" x 43"!) from Riley Blake's National Parks series! Plus two coordinates, Park Signs in green and Park Words in black.
We have two new books to tell you about this week. One is
Sisterhood of Scraps
by Lissa Alexander, featuring 12 designs from 7 different designers. It features a variety of quilts, from very organized scrappy color palettes to ones where you can use all the colorful scraps in your stash!
Also new is
A Country's Call: Civil War Quilts and Stories of Unsung Heroines
. This book features Civil War era designs, which are also quite pleasingly scrappy. Included are brief profiles of women from that time period like Dr. Elizabeth Blackwell and Dorothea Dix, as well as others who are not as well known. Fascinating stories that leave you wanting to know more!
We have five curated fabric bundles for the Out West
Mystery Block of the Month
designed by Pat Sloan. It lasts for 10 months, and you can still join us!
Pat posts a pattern for one 12-inch block each month for a total of 9 months, plus setting instructions. The quilt finishes at 58 x 66. I've finished the first two blocks, which were fun to make, and Pat's instructions are clear and easy to follow.
Bernina News!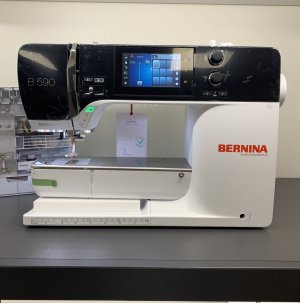 Financing available on BERNINA machines and accessories!



If you're interested in a new machine, the Leap Into Embroidery event begins February 21 and runs through March 3. There are wonderful gifts with purchase and great financing offers.
Upcoming classes
Beginning Sewing
for adults
next meets Saturday, February 15, from 9am-12pm.
They will be making this cute tote bag.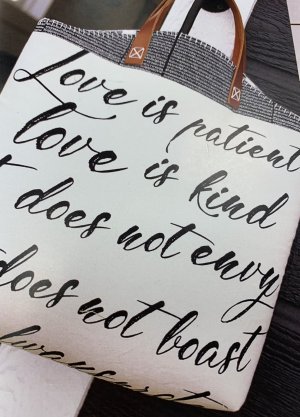 Kids
Beginning Sewing
! The next meeting is February 15 from 1-4pm.
Machines provided.
The March
Pincushion Party Class
is
Monday, March 9, from 6-9 pm.
There have been requests to make "teacup" pincushions, so this month we will be learning that technique and making a pincushion in a little ramekin. You'll be able to use what you learn to make pincushions to fit a teacup of any size, or any other fun vessel that you especially like.
You won't need your sewing machine this month.
Just bring scissors, polyester thread, and a needle. All the materials to finish your pincushion will be provided.
AND
... we will also be making decorative beaded pins, so you will leave with some fun pins to stick into the cute pinnies you've been making!! Enjoy an evening of coffee, treats, and a fun time visiting with sewing friends!
Bazinga!

with Jan




Learn a fun technique for making quarter log cabin blocks and make a stack of blocks to use as you please!

If you are on the waitlist, we'll be running this class Saturday, March 7th from 1pm-5pm.





Ongoing classes

: These classes happen on a recurring basis and can be joined at any time

:
First Friday with Connie
Will meet on March 6.
The next
Aurifil Color Builder's Club
meeting will be Thursday, February 20 at 6pm!
Sew in Love
Meets the third Thursday of the month at 6:00. Next meeting:
February 20!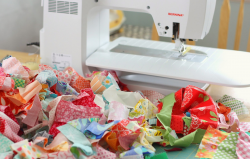 Scrap Masters
with Barb and Jan will meet on February 27. This group typically meets the
4th Thursday of the month,
from
6:30-8:30 pm.
($5 per session) Bring a sandwich-size baggie of scraps to swap!
Happy Sewing!
Kim