Skip Navigation
Website Accessibility
Quilter's JEM Summer Moon Quilt-Along - Block 8 Buzzard's Roost & Block 9 Crown of Thorns
Quilter's JEM Summer Moon Quilt-Along 2019-2020
#summermoonquilt #quiltersjem #QJsummermoonQAL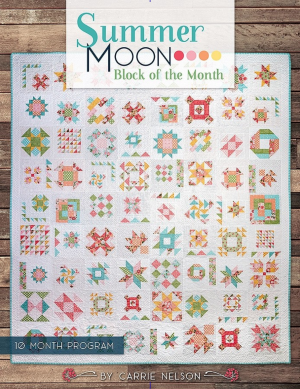 In this letter, I have included two blocks, the Buzzards Roost and the Crown of Thorns.
Buzzard's Roost.
I can't say that name conjures up a great image. As it turns out the buzzard, even the Common Buzzard, is a pretty elegant looking bird, although the blocks are prettier!
The block uses 16 flying geese units set around a square - a lot like a bird's nest viewed from, well, a bird's eye view! If you're feeling cheeky, you might choose one block and reverse the background-print directions so that the geese are the background fabric and the corners of sky and central square are the prints!

Crown of Thorns.
This block is all about the Half Square Triangle (HST), an old and trusted friend! The HST is the star of many blocks, including Crown of Thorns. Our book has us use the popular method of pair-sew-split, which allows you to create two HSTs at once.
You may have another favorite way to make your HSTs, and I find it is best to use the method that works best for you!
Merie's favorite way is just a variation on the method above. Using the pair-sew-split method you will be cutting your squares to an 1/8" measurement. For example, for the small size Crown of Thorns, your paired squares at cut to 1-5/8". Now, if you use your Itty Bitty Eights ruler and you know you can sew a very accurate scant 1/4" seam, your HSTs will turn out perfectly.
I confess, I am not always confident in my ability to sew a very accurate scant 1/4". I cut my squares larger, usually almost and inch", pair-sew-split and press, and then use my beloved BlocLoc to trim the HST units to the correct size.
Whatever your method, enjoy making these classic blocks!
Happy sewing!
~ Kim