Skip Navigation
Website Accessibility
News from Quilter's JEM for the week of 3/6/20

1525 Central Ave NW / East Grand Forks MN 56721 / (218) 399-0159 / www.quiltersjem.com
Hello Friends!
We're highlighting our bright and beautiful batiks at the shop this week - they've moved up to sparkle in the natural light through our front doors! A project with the feel of the tropics might be just what you need to get through the end of winter!
Have you seen our latest samples and kits on Facebook and Instagram? Chantilly Sunshine is a fresh, fun quilt to make that is certain to have you thinking spring!
Vineyard is a beautiful new table topper or wallhanging.
And, you can make a matching gift bag for a wine bottle! These gift bags are fun and easy to make, and you can adapt the directions to whatever size you need! Here's a link to the free tutorial we used for the one on display in the shop:
wine gift bag tutorial.
If you enjoy Kim Christopherson's Kimberbell patterns, you're sure to like her new Vintage Boardwalk fabric line from Maywood Studio.
In February, Art Gallery Fabrics was named 2019's "Best Fabric Brand" by the British Sewing Awards. Anyone here at the shop will tell you we are not surprised. We're big fans of Art Gallery's look and feel - especially their basics Deco Stitch line! Come in, and we'll show you what we mean!
Do you like to plan ahead? Here's a Halloween sample quilt that is now up for sale!
Bernina News!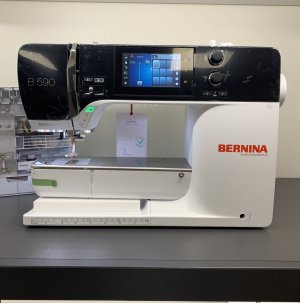 Financing is available on BERNINA machines and accessories!

ZERO % FOR 48

MONTHS!
During March, the
Bernina Embroidery Foot #6
and
Embroidery Foot with Clear Sole #39
are on sale for 25% off!
Upcoming classes


Bernina Mastery Classes have been scheduled. Instruction provided free for Machines purchased at Quilter's JEM ! Call 218-399-0159 to register.
500,
700
and 800 series
Friday, March 13 at 9am,
or
Monday, March 23 at 6pm



300

and 400 series
Thursday, March 12 at 10am
or
Tuesday, March 24 at 6pm

Beginning Sewing
for adults
next meets Saturday, March 21, from 9am-12pm. They will be making an adorable pincushion!

Kids
Beginning Sewing
! The next meeting is Saturday, March 21, from 1-4pm.
Machines provided.
The March
Pincushion Party Class
is
Monday, March 9, from 6-9 pm.
There have been requests to make "teacup" pincushions, so this month we will be learning that technique and making a pincushion in a little ramekin. You'll be able to use what you learn to make pincushions to fit a teacup of any size, or any other fun vessel that you especially like.
You won't need your sewing machine this month.
Just bring your scissors and everything else will be provided.
AND
... we will also be making decorative beaded pins, so you will leave with some fun pins to stick into the cute pinnies you've been making!! Enjoy an evening of coffee, treats, and visiting with sewing friends!
Quilting 101 with Connie

Learn how to quilt, from choosing fabrics to attaching the binding, by making a small quilt/wallhanging! Connie guides you through all the steps, with lots of tips and tricks along the way! Take it with a friend!
Two sessions offered:
Tuesday evenings, starting April 7, 6:30-9pm, 8 weeks
Monday afternoons, starting April 20, 1:30-4:30, 8 weeks



Ongoing classes

: These classes happen on a recurring basis and can be joined at any time

:
First Friday with Connie
Will meet on March 6. Pre-register!
The next
Aurifil Color Builder's Club
meeting will be Thursday, March 26th at 6pm!
Check out these blocks form the first month of the
Aurifil Color Builder's Thread Club Mystery Quilt.
It's fun to see how different they look with different fabrics!
The 2nd month's block for got us working with applique and thread work!
I have to admit, it was more fun than I expected!
Out West Block of the Month!
with Pat Sloan is in it's 3rd month. There's still time to join with a nice assortment of kits available. Blocks go together quickly, and I can't wait to see the finished product!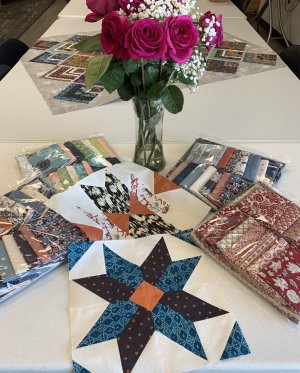 Sew in Love
A reminder that this group meets the third Thursday of the month at 6:00.
The next meeting is
MARCH 19TH!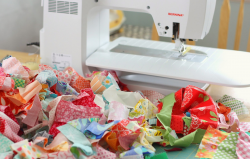 Scrap Masters
with Barb and Jan will meet on February 27. This group typically meets the
4th Thursday of the month,
from
6:30-8:30 pm.
($5 per session) Bring a sandwich-size baggie of scraps to swap!
Happy Sewing!
Kim