Skip Navigation
Website Accessibility
News from Quilter's JEM for the week of 3/18/20

1525 Central Ave NW / East Grand Forks MN 56721 / (218) 399-0159 / www.quiltersjem.com
Hello Friends!
All Classes, through March 30th will be rescheduled as of April 1, 2020 or until further notice!

As of today, we are open. That said, I will continually be updating the website, and will take online orders for shipment, or for curbside pickup in the event that we have a mandatory closure.
We have two new kits in the shop this week! Both are sure to lift your spirits, make you smile, and give you some quiet and peaceful (pieceful?) sewing time.
First we have the Unicorn Quilt Kit:
And also Ellen Bee Lane in those gorgeous fabrics from the Growing Beautiful line:
Bernina News!


Spring Sale begins March 20-31, 2020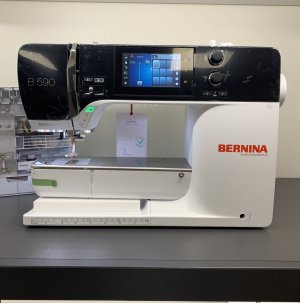 During March, the
Bernina Embroidery Foot #6
and
Embroidery Foot with Clear Sole #39
are on sale for 25% off!
Upcoming classes
:

Classes are listed with dates and times, although all will be rescheduled after April 1, 2020, or until futher notice!



Bernina Mastery Classes have been scheduled. Instruction is provided free for Machines purchased at Quilter's JEM ! Call 218-399-0159 to register.
500,
700
and 800 series
Friday, March 13 at 9am,
or
Monday, March 23 at 6pm
300
and 400 series
Tuesday, March 24 at 6pm
Beginning Sewing
for adults
next meets Saturday, March 21, from 9am-12pm. They will be making a fun notions bucket with a matching pincushion!

Kids
Beginning Sewing
! The next meeting is Saturday, March 21, from 1-4pm.
Machines provided.
The April
Pincushion Party Class
is
Monday, April 13, from 6-9 pm.
This fun Pincushion has acz Dresden plate feel to it, and you'll enjoy seeing how it comes together! Bring your sewing machine and sewing supplies--all the materials to make the pincushion will be provided. Join us for a fun evening of sewing, coffee, and chatting with friends!
Quilting 101 with Connie

Learn how to quilt, from choosing fabrics to attaching the binding, by making a small quilt/wallhanging! Connie guides you through all the steps, with lots of tips and tricks along the way! Take it with a friend!
Two sessions offered:
Tuesday evenings, starting April 7, 6:30-9pm, 8 weeks
Monday afternoons, starting April 20, 1:30-4:30, 8 weeks

Poolside Tote
Mondays, March 30 and April 6
Join Pam to make this tote bag using Charlie Harper Barkcloth, kits available.



Visible Mending using Sashiko & Boro-inspired techniques Class
Wednesdays, April 15, and April 29, 6pm-8pm
Learn how to decorate, strengthen and repair clothing with this beautiful Japanese handcraft.





Ongoing classes

: These classes happen on a recurring basis and can be joined at any time

:
First Friday with Connie
Will meet on March 6. Pre-register!
The next
Aurifil Color Builder's Club
meeting will be Thursday, March 26th at 6pm!
Out West Block of the Month!
with Pat Sloan is in it's 3rd month. There's still time to join with a nice assortment of kits available. Blocks go together quickly, and I can't wait to see the finished product!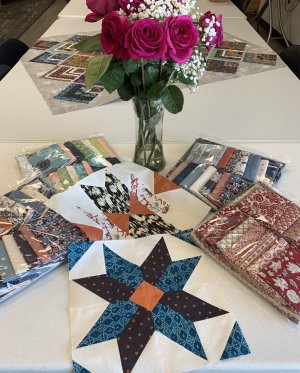 Sew in Love
A reminder that this group meets the third Thursday of the month at 6:00.
The next meeting is
MARCH 19TH!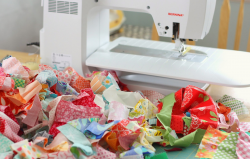 Scrap Masters
with Barb and Jan will meet on March 26. This group typically meets the
4th Thursday of the month,
from
6:30-8:30 pm.
($5 per session) Bring a sandwich-size baggie of scraps to swap!
Happy Sewing!
Kim