Skip Navigation
Website Accessibility
News from Quilter's JEM for the week of 3/22/2020

1525 Central Ave NW / East Grand Forks MN 56721 / (218) 399-0159 / www.quiltersjem.com
Hello Friends!
Hope this evening finds you all healthy, safe, and sewing away on all those UFO's. Quilter's JEM will be closing Friday, March 27th at 5:30pm through Friday, April 10th. This closure is by Executive Order from Governor Walz of MN. No employees or customers will be allowed in the building. We hope to be able to fill Web Orders.
#aworldofheartsNEW TILDA
has arrived! Bon Voyage and Sophie's Basics are soft and beautiful for that perfect spring or summer project!
The
Abby Rose
Layer Cakes by Robin Pickens (and a few coordinating bolts) made an appearance this week! I think you'll agree they are quite lovely!
NEW KITS!
Vintage Boardwalk Quilt Kit
has me dreaming of summer with it's vintage swimwear, bicycles and pinwheels!
Ellenbee Lane Quilt Kit
is as bright and colorful as I'm hoping my flower garden will be this summer!
The
Out West Block of the Month
by Pat Sloan is now in it's third month. We still have a few kits left and the simplicity of the blocks make it an easy one to catch up on!
The
Making Backpack Pattern
from Noodlehead was a fun project completed by Emma last Saturday!
Bernina's Spring Sale
has been extended through April 14th with great financing packages. We will help you find the perfect machine to fit your needs!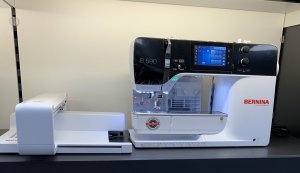 CLASSES
Keep an eye out for the rescheduling of
Visible Mending Using Sashiko & Boro-inspired techniques!
The Pool Side Tote
and Many More!
I plan to spend my next two weeks, SEWING! SEWING! AND MORE SEWING! and enjoying some family time! I'm not gonna lie, I love having them all at home, (even though their school year has ended a little early)!
Be sure to check the website at www.quiltersjem.com often, as I will have a lot of time on my hands to add products and class schedules back that were accidentally deleted!
I'll have a few surprises for you all at the end of this crazy time!
Happy Sewing!
Kim