Skip Navigation
Website Accessibility
News from Quilter's JEM for the week of 4/17/2020

1525 Central Ave NW / East Grand Forks MN 56721 / (218) 399-0159 / www.quiltersjem.com
Hello Friends!
It's been a wild week of mask making. Pictured are a few of the masks I've made for friends and family. Thank you for all the pictures you have shared.
Out West! Mystery Block for April was a lot of fun. Can't wait to see the final layout for this mystery quilt. Here are our blocks up to this point. Few kits available!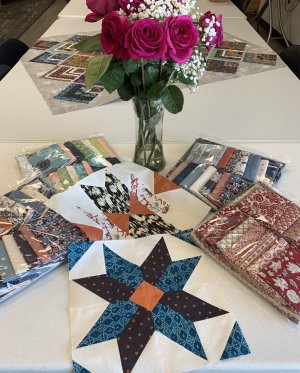 www.berninausa.com
Machines across the country are in short supply, but you can visit the above website, and Bernina will ship direct to you through Quilter's JEM. Any questions, feel free to contact my at 701-330-0451. We still have a few machines in the store.
I will be closed for curbside tomorrow, Saturday, April 18th. We are filling lots of web orders. Thank you for supporting Quilter's JEM! Orders can be placed online at www.quiltersjem.com or by calling 218-399-0159 or 701-330-0451. So excited to see you all in the store very soon!
Happy Sewing!
Kim