Skip Navigation
Website Accessibility
News from Quilter's JEM for the week of 5/15/2020

1525 Central Ave NW / East Grand Forks MN 56721 / (218) 399-0159 / www.quiltersjem.com
Hello Friends!
Many new items in the store. We are open from 10am-5:30pm Monday-Friday. We will be closed this Saturday, May 16th. This last week has brought many of you into the store, and we love seeing you. We are still offering curbside pickup and online shopping, and using good social distancing practices.
New Fabric Collection from Moda, Brightly Blooming by Create Joy
New Baby Kit, Little Dude Lullaby, 40" x 51" features fabric from Art Gallery's Pine Lullaby Collection.
Great Outdoors Panel Kit: 36" Table Topper, 6 Placemats and 2 Potholders.
New Baby Flannels from Henry Glass & Company, and Timeless Treasures!
Sample Sale continues through May 31st! Great time to get a gift at 25% off sample price.
Out West Block of the Month, Block 5 is complete (it is the one on the lower left-hand side of the picture. Blocks go together quickly, and Pat has wonderful directions. Still time to join and a few kits are left.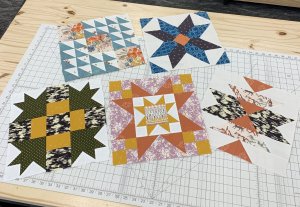 Bernina Sale
. TRADE IN, TRADE UP for 25% off MSRP on Machines priced $999 or higher. No Trade, No problem. 20% off MSRP without trade. Sale through May 31st.
BSR Stitch Regulator is 25% OFF until May 31st. The BSR helps to make your free motion quilting even and beautiful.
Have a wonderful weekend!
Happy Sewing!
~Kim