1525 Central Ave NW / East Grand Forks MN 56721 / (218) 399-0159 / www.quiltersjem.com
Hello Friends!
Quilter's JEM will be closing Friday, May 22nd at 2pm and reopening Tuesday, May 26 at 10:00 am in observance of the Memorial Day Holiday.
I'm sure that by now you are tired of emails and commercials that talk about "in these challenging times..." - we are too! And yet, when times are challenging, quilters know a secret: making something helps. Whether it is a quilt, a set of bibs for a new baby, a mask with the perfect fabric, or a new set of napkins to brighten up family meals - just sitting down and creating something lifts the spirits. When you need some new supplies for your crafting, we're here - and we have some lovely new fabrics to tempt you with!
We still offer curbside pickup and online shopping, and in the shop we're using good social distancing and cleaning practices. We care about keeping our customers and our staff healthy!
Janet Clare has a great new collection out called Geometry, full of her fresh clean greens and blues, with navy for a dark accent. We have bolts and charm packs!
Deb Strain's Cultivate Kindness line comes with a panel full of beautiful vintage trucks! We have it with a tan or light grey background, and the pretty bolts, too!
The well-named Create Joy Project from Moda brings us Brightly Blooming
Tilda's Bon Voyage line is just the touch of spring-color elegance you might be looking for!
The following photo was also online to advertise Bon Voyage, and I'm wondering if I need to replicate it as a quilt now...
We have new books from It's Sew Emma, full of patterns for layer cakes (Perfect 10 Quilts) or charm packs (Perfect 5 Quilts) - and we still have those fabulous pads of paper piecing papers for small log cabin and pineapple blocks.
It might seem early to start talking about Christmas, but we will soon be filling our shelves with new Christmas fabric. I don't know about you, but I actually do need to start this early if I want to give someone a quilt for Christmas! First in the shop are thee terrific mega-panels from Moda Printworks. Each one is 54" x 65" (perfect size to back with Fireside or Minky!).
along the winter theme, we have layer cakes of Tahoe Ski Week
Now that we've broken open the Christmas fabric, I may as well tell you that Halloween and fall are coming too! First ones in the shop for fall seasonal fabrics are from Henry Glass's Moonshine line, including a fun panel.
Sample Sale continues through May 31st! Great time to get a gift at 25% off sample price.
Out West Block of the Month, Block 5 is complete (it is the one on the lower left-hand side of the picture. Blocks go together quickly, and Pat has wonderful directions. Still time to join and we even still have a few kits left!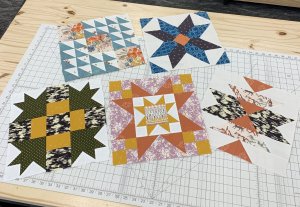 Bernina Sale
. TRADE IN, TRADE UP for 25% off MSRP on Machines priced $999 or higher. No Trade, No problem. 20% off MSRP without trade. Sale through May 31st.
BSR Stitch Regulator is 25% OFF until May 31st. The BSR helps to make your free motion quilting even and beautiful.
We have more fabric scheduled to come in later this week, and look forward to showing you more in next week's newsletter!