Skip Navigation
Website Accessibility
News from Quilter's JEM for the week of 5/27/20

1525 Central Ave NW / East Grand Forks MN 56721 / (218) 399-0159 / www.quiltersjem.com
Hello Friends!
Last week I showed you all the new pretty fabric. This week I have some fabric to show you, but also books and tools to help you make some wonderful projects with that pretty fabric!
We still offer curbside pickup and online shopping, and in the shop we're using good social distancing and cleaning practices. We care about keeping our customers and our staff healthy!
We will continue to be closed on Saturdays until July 31st, the beginning of Minnesota Shop Hop!
First up, a charm pack: Bloomington!
Also, select bolts from Sweetwater's The Christmas Card (I did warn you last week that Christmas was coming!)
Are you looking for a smallish project? Maybe something useful that will add a little cheer to your day? A new table topper or table runner may be just the thing! Doug Leko of Antler Designs has a new book out, Tabletastic!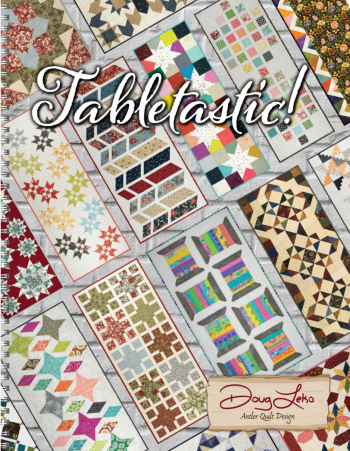 Wonderful projects with Doug's usual clear instructions and lots of pictures make the instructions even easier to follow. The patterns are all named for London locales making it extra fun, if you've been there or are a fan of British mysteries. An added bonus: it is spiral bound! Is there anything more helpful than a book that lays flat while you're working from it?
Need a project that is a little bigger, and maybe you need to make one for a new arrival? If so, Charming Baby Quilts has ten patterns to choose from, easy to follow instructions with pictures, uses charm packs, AND is also spiral bound!
As a bonus, each pattern could be treated as a Very Big Block - join four and you'll have an adult-sized quilt! This would be especially effective if you happen to have four of the same charm packs or four different charm packs all by the same designer!
Maybe you like this idea but you are thinking, what if I just cut 5" squares from one fabric and reassembled it into that giant star on the cover of Charming Baby Quilts? How much of that fabric would I need? Guess what...there's a book for that question and many others! No Math Quilt Charts & Formulas!
We have two new rulers in the shop - one would be very useful for an upcoming kit we'll be offering (the sample is under construction as I type!). Both are from Creative Grids, so you know they are non-slip and very accurate and easy to use! One is the 60 degree 8" finished Size triangle, useful for making hexagons and sawtooth borders.
The other is the Half Sixty Triangle.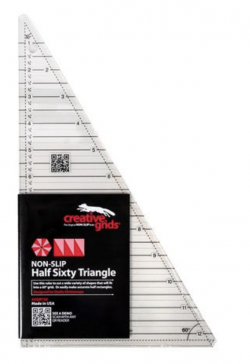 We are not too far away from the 2020 Quilt Minnesota Shop Hop! In the weeks to come I'll be showing you the beautiful fabrics and projects we'll have and other exciting Hop news! Pre-orders will be available once the fabric arrives.
The other exciting news is that we are going to be offering some
classes
next month
. To sew together safely, each class is limited to a
maximum of 4 people (2 minimum)
.
Interrupted Adult Beginning Sewing
with Pam - the continuation of the class begun before the pandemic put it on hold!
Session 3: Saturday, June 13, 9-noon
Session 4: Saturday, July 18, 9-noon
Learning to Sew: Adults
with Pam
Tuesdays, 6:30-9:30pm, June 9 & 23, July 14 & 28
Learning to Sew: Kids
with Pam - all materials provided with class & kit fee!
Tuesdays, 12:30-3:30pm, June 9 & 23, July 14 & 28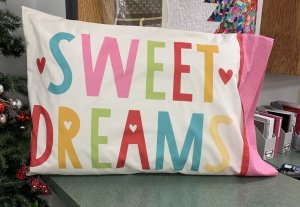 Poolside Tote with Pam
- a three session class offered Wednesdays (June 17, 24, and July 1), mornings (9-noon) or evenings (6:30-9:30). $45 + kit purchase required.
Sample Sale continues through May 31st! Great time to get a gift at 25% off sample price.
Happy Sewing!
~ Kim