Skip Navigation
Website Accessibility
News from Quilter's JEM for the week of 6/4/20

1525 Central Ave NW / East Grand Forks MN 56721 / (218) 399-0159 / www.quiltersjem.com
Hello Friends!
We still offer curbside pickup and online shopping, and in the shop we're using good social distancing and cleaning practices. We care about keeping our customers and our staff healthy!
We will continue to be closed on Saturdays until July 31st, the beginning of Minnesota Shop Hop!
This week has brought quite a stretch of nice early summer weather, so I know you are thinking the fall and winter holidays are really far away...but not in Fabricland! In Fabricland we are already carving pumpkins and stuffing stockings. This past week we've received some bolts that are sure to inspire your holiday sewing!
Let's take Halloween first. From Studio E we have Harvest Moon, a wonderfully atmospheric line that includes both a large panel and a blocks panel.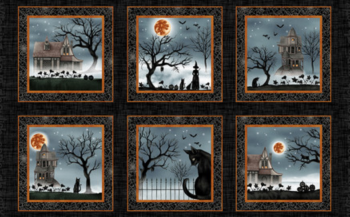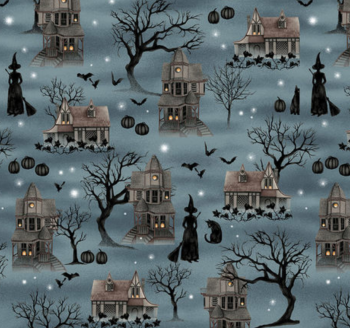 Spooky Town!
A Haunting We Will Glow is a more whimsical line that features...you guessed it! Glow in the dark motifs! Perfect for trick-or-treat bags or pillowcases for littles!
From Nancy Archer, we have a panel for Pumpkin Spice softies - two pumpkins and a bluebird!
Then we have kits available soon for Sweetwater's Noel lap quilt
Rejoice! from P&BTextiles, featuring a 24" wide panel and coordinating bolts!
We are not too far away from the 2020 Quilt Minnesota Shop Hop! In the weeks to come I'll be showing you the beautiful fabrics and projects we'll have and other exciting Hop news! Pre-orders will be available once the fabric arrives.
The other exciting news is that we are going to be offering some
classes
next month
. To sew together safely, each class is limited to a
maximum of 4 people (2 minimum)
.
Interrupted Adult Beginning Sewing
with Pam - the continuation of the class began before the pandemic put it on hold!
Session 3: Saturday, June 13, 9-noon
Session 4: Saturday, July 18, 9-noon
Learning to Sew: Adults
with Pam
Tuesdays, 6:30-9:30pm, June 9 & 23, July 14 & 28
Learning to Sew: Kids
with Pam - all materials provided with class & kit fee!
Tuesdays, 12:30-3:30pm, June 9 & 23, July 14 & 28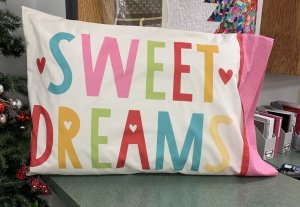 Poolside Tote with Pam
- a three session class offered Wednesdays (June 17, 24, and July 1), mornings (9-noon) or evenings (6:30-9:30). $45 + kit purchase required.
Bernina Summer Sale
begins on June 12-23! The offerings of the sale have changed due to supply issues, although Bernina has sweetened their deals. Come in to visit about current offerings.
Happy sewing!
~ Kim