Skip Navigation
Website Accessibility
Quilter's JEM Special Edition: Quilt Minnesota 2020!

1525 Central Ave NW / East Grand Forks MN 56721 / (218) 399-0159 / www.quiltersjem.com
Hello Friends!
Quilt Minnesota is coming soon and I wanted to give you an introduction to this year's fabrics, tell you how to pre-order them, and let you know about some of the things we will be doing this year.
We are in the Northwest region and you can
find a map at this link
.
If you've been on the Quilt MN state-wide hop before, you know how this works, and have probably already scrolled down to the fabrics, but in case you haven't, here are the basics:
From July 31 to August 23, participating shops in Minnesota will be carrying the official shop hop fabrics. Whether you plan to visit only a couple shops or as many as possible, join in the fun! At your first shop you'll be issued a passport - at each subsequent shop be sure to get your passport stamped! You'll also receive a 5" square of fabric and a pattern for that shop's 8" block. Here is ours, a Lady (Loon?) of the Lake block - we will also have block kits available!
Each shop has also been creating fun kits and ideas for this beautiful fabric. The state is divided into 9 regions, and when you visit each shop in a region, you earn a prize! There are also prizes for completing the state.
You can find more details on the Quilt Minnesota home page!
Two 24" wide panels
Two versions of the small blocks panel
Two versions of Minnesota fishes
Two border stripes
Two versions of the Lady Slipper fabric
Loons on blue
Wildflowers!
Words!
Blenders!
One of the rules of Quilt Minnesota is that we cannot sell the fabric until July 31st. But, we can take preorders! To preorder your fabric, you can use
this form
.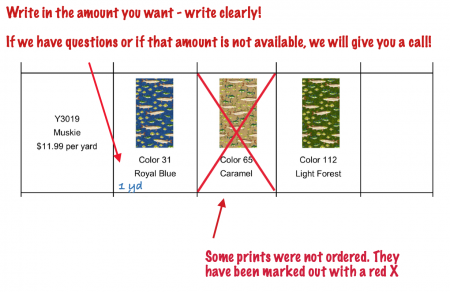 Then email or call the shop with your order. If you email your order, we will then call you to get your credit card number (you won't be charged until 7/31 and then can pick up your order any time after that) and to let you know your purchase's total. We can also mail your order to you after 7/31, and will call you once we know the mailing charge.
Call the shop if you have questions - we look forward to hopping with you!
Happy sewing
~ Kim