1525 Central Ave NW / East Grand Forks MN 56721 / (218) 399-0159 / www.quiltersjem.com
Hello Friends!
We are pretty well in love with Janet Clare's new collection The Blues! So many great textures and shades of blue and ecru, including two gorgeous ombre bolts!
We continue to get in more and more colors of Thatched, our new favorite blender
And from Jennifer Sampou, her Wintertime Shimmer quilt and runner pattern
Bernina News!
We have a full slate of machines in right now! From reliable starter machines to machines with as many special features as you could hope for!
The Bernina 480 is a great machine that has a 9mm stitch width and a Jumbo Bobbin!
Classes
The other exciting news is that we are now offering a few
classes
. To sew together safely, each class is limited to a
maximum of 4 people (2 minimum)
. Any class that has a Group 1, 2, 3, etc means that the instructor is running an additional section. Call 218-399-0159 to register for classes.
Classes are filling fast, but we are adding sessions as needed, and you can ask to be put on the waitlist. Call the shop, 218-399-0159, to get on a waitlist for additional sessions being offered for full classes.
First Friday

with Connie November 6 from 6:30pm. And Second Friday on November 13! Call to register for either date!
Adult Beginning Sewing, 3 sessions. October 9, 26 and November 2. 6pm-9pm this session is full, watch for additional sessions.

Veiled Suggestion Block of the Month is on the third Thursday of the month. Offered at 10am or 6pm. This class is ongoing for 13 months, and you can join us at any time!
A versatile pattern that looks great in a variety of colors and styles! Below you can see a section of the quilt in brights and also in Kim Diehl fabrics!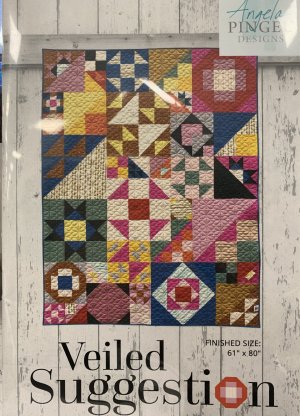 Kiss & Make Up Bag! A Perfect Christmas Gift! This fabulous class is back! November 16, 23 and 30. Call to Reserve Your Spot! Kits are Limited.
Pincushion Party!
Two sessions: Monday, November 9 from 9am-12pm or 6pm-9pm.
Scrap Masters is Back! 4th Thursday of the month, but in
NOVEMBER we will meet on the 3rd Thursday
.at 6:00pm. Please call so we know to set up a space for you!
Beginning Quilting 102, (101 Revised) will begin Monday, January 11th from 1:30pm-4:30pm or Tuesday, January 12th from 6:30pm-9:30pm. This session runs for 8 Weeks.

Bernina Mastery Classes
have been scheduled! Call 218-399-0159 to get registered.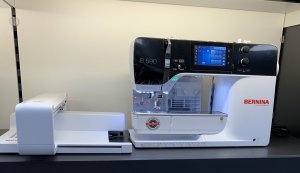 Long Arm Update!
Lots of busy bees out there finishing quilt tops! As we look ahead to the holiday projects that need quilting, Amy is about 2 months out with Long Arm Quilting. You can call to get on her list if you need a project by a particular date.
Happy sewing!
~ Kim