1525 Central Ave NW / East Grand Forks MN 56721 / (218) 399-0159 / www.quiltersjem.com
Hello Friends!
North Star Quilters Guild invites you to an online lecture with Nina Clotfelter.

Join us on Saturday, February 27 at 10 AM for an online presentation:
THREADS - What's the BIG deal?

This is a FUN lecture on all the things you didn't know you needed to know about thread!
As an educator for WonderFil Specialty Threads, Nina has learned a lot and wants to share!
When we purchase thread it's usually the color we buy, or the thread the shop carries. In this lecture you'll learn about the different weights of thread and why they make a difference. Why is ply important?
How do we work with specialty threads like metallic, monofilament and tinsel?
Why do metallics give us issues?
This lecture is FULL of information you'll be happy you know!
The lecture is free, but registration is required as spaces are limited. Register at the Signup Genius event: https://www.signupgenius.com/go/9040a4eaaae28a31-threads.
Then look for an email from QuiltingontheRed@gmail.com with the meeting id and password, which will arrive a day before the event.


Here's a new challenge for all you creative sewists! Your participation helps to support our very own Colleen Carlson
as she works toward becoming a quilt judge!
Quilter's JEM will be a drop off site for your quilts. Drop off on March 15th, and pickup on March 27th.


Aurifil Thread Club
meets tonight, Thursday, February 25, at 6:00
Space is still available-- join us at 6!
Bring a USB for your machine embroidery pattern.
You will also get the paper pieced pattern and a gift from Quilter's JEM!



Classes
Kids Sewing
Saturday 1pm-4pm





Bernina Mastery Classes!


(free with purchase of machine at QUILTER'S JEM)

WEDNESDAY, MARCH 3
Mastery 400/500 series. 11am-1pm
Mastery 300 series~1st session~ 2pm-4pm
Mastery 300 series~2nd session~ 5pm-7pm


Learn to master your BERNINA Sewing machine as you work step by step through hands-on activities from the My BERNINA Sewing Mastery Workbook.




Learn to care for your machine and how to use specialty functions to customize machine settings to your needs. You'll learn to use the most important utility stitches on your machine, such as straight stitches, overlock stitches, long stitches, blind hem, and buttonholes.


You'll also learn about the many creative options of your machine, including decorative stitches, combi mode, free-motion stitching, and more.

Workbook provided.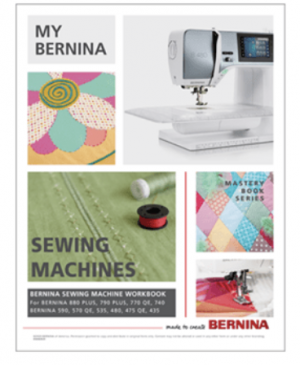 THURSDAY, MARCH 4
Embroidery 11am-2pm


Learn to master your BERNINA Embroidery machine as you work step by step through hands-on activities from the My BERNINA Embroidery Mastery Workbook.




You will learn everything you need to embroider with your machine successfully, including setting up your machine for embroidery, customizing machine settings, navigating embroidery screens, adding lettering, editing designs, placing designs, changing thread colors and more.





Workbook provided.







Pajama Class!


We have beautiful soft knits to help you complete this project. You will be able to try out our amazing new Bernina Air-threading Overlockers in this class in addition to learning how to sew knits on your own machine! Pattern and fabric required! Call 218-399-0159 to register.
Saturdays
Session One: March 6th, 11am-2pm
Session Two: April 10th, 11am-2pm

Adult Beginning Sewing
~Always wanted to learn how to sew? Pam will guide you through the steps, starting with a pillowcase, tote bag, and even zipper installation in this 3 session class! Call 218-399-0159 to register!
Saturdays April 24, May 1 and 8


The Boss is Away Sale!

Finish a bolt and receive 20% off the yardage on that bolt!
Bernina News


The Bernina 770 QE is back in stock! A beautiful 10" of workspace for your sewing and quilting needs!
Mastery Classes are free with purchase!

Financing Available!
Happy Sewing~~ Kim