Skip Navigation
Website Accessibility
News from Quilter's JEM for the week of 3/12/21

1525 Central Ave NW / East Grand Forks MN 56721 / (218) 399-0159 / www.quiltersjem.com
Hello Friends!
After having a few days off with my family, it's fun to be back and planning lots of quilting and sewing projects for spring!
We're getting great new fabric almost every day and have lots of ideas for things that would be fun to make, either for yourself or for gifts.
Stop by the shop to see what we might have that will be right up your alley!
Spring Brook by Corey Yoder for Moda Fabrics is so nice and springy!
If you are planning on entering this fun quilt show challenge, please note that the dates are different than previously stated.
Quilter's JEM will be a drop off site for your quilts. Drop off on April 15th, and pickup on April 27th.



New kits in the shop~by Meags & Me
Blue Breeze
Ducklings
Duck Duck Goose
SCHEDULE CHANGE! Due to staff gone vending at a retreat next Saturday

Saturday, March 13th we will host
Simple Whatnots Club. 9:30am-10:30am
Humble and Heartfelt Sew-A-Long 11:00am-12:00pm
Adult Beginning Sewing
If you would like to learn how to sew, Pam will guide you through the steps, starting with a pillowcase, tote bag, and even zipper installation in this 3 session class!
Call 218-399-0159 to register!
Saturdays April 24, May 1 and 8

Bernina Mastery Classes!
(free with purchase of machine at QUILTER'S JEM)
WEDNESDAY, MARCH 17
Mastery 500 series, 2nd session - 11am - 1pm
Mastery 300 series, 1st session - 2pm - 4pm
Mastery 400/500 series, 1st session - 5pm - 7pm
Learn to master your BERNINA Sewing machine as you work step by step through hands-on activities from the My BERNINA Sewing Mastery Workbook.
Learn to care for your machine and how to use specialty functions to customize machine settings to your needs. You'll learn to use the most important utility stitches on your machine, such as straight stitches, overlock stitches, long stitches, blind hem, and buttonholes.
You'll also learn about the many creative options of your machine, including decorative stitches, combi mode, free-motion stitching, and more.

Workbook provided.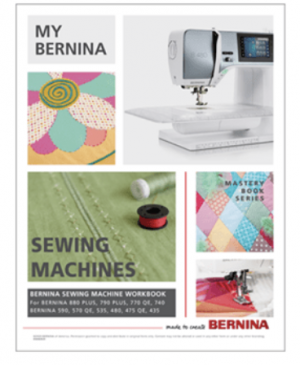 THURSDAY, MARCH 18
Embroidery 11am - 2pm
Learn to master your BERNINA Embroidery machine as you work step by step through hands-on activities from the My BERNINA Embroidery Mastery Workbook.
You will learn everything you need to embroider with your machine successfully, including setting up your machine for embroidery, customizing machine settings, navigating embroidery screens, adding lettering, editing designs, placing designs, changing thread colors and more.
Workbook provided.
FRIDAY, MARCH 19
Mastery Series 400, 2nd session - 10am - 12pm
Bernina News
If you've been thinking about a new Bernina, now is the time!
20% off MSRP sale Select Machines and Presser Feet
March 1-31

0% Financing (March 12-16) on purchases of $3000 or more
Happy Sewing~Kim