1525 Central Ave NW / East Grand Forks MN 56721 / (218) 399-0159 / www.quiltersjem.com
Hello Friends!
These nice days have brought many quilters into the shop looking for fabric to make graduation quilts and other spring themed things.
While I'm away at Camp Lebanon vending at a retreat, the girls back at the store are busy checking in merchandise and putting together new kits.
* * * * *

Quilter's JEM is leading a mystery quilt sew-a -long at camp



Shop at Camp



Remember
to be working on your quilt for the
Name That Tune Quilt Show
coming up in
April.


* * * * *


New Fabrics and Kits







Block of the Month Clubs


Many of you have inquired about joining our Clubs after the start date. You are absolutely welcome to join any of our clubs at anytime. We will help you catch up! The projects are so much fun. Don't hesitate!
Call 218-399-0159 to register!



Kim Diehl Whatnots Club



Kim Diehl's Humble & Heartfelt Sew-a-Long


My

Favorite Color is Moda-




Available

Colorways


Primrose Garden
Trading Post
Cookie Tin
Pink Lemonade
Tropical Getaway

Primrose Garden and Trading Post



Aurifil Thread Club 2021


The foundation paper piecing is delightful!




The embroidery designs are also beautiful and unique.



Adult Beginning Sewing
If you'd like to learn to sew, join Pam and she will guide you through all the steps.
During this three session class you'll begin by making a pillowcase, next a tote bag, and during the last session even learn to install a zipper!
Call 218-399-0159 to register!
Saturdays April 24, May 1 and 8
Beginning Quilting with Connie Selle
8 week sessions
Daytime Sessions: Monday 1:30pm-4:00 pm begins April 5
Evening Sessions: Tuesday 6:30pm-9:00pm begins April 6
Rainbow of Jewels with Connie
This beautiful Kaleidoscope Quilt begins Wednesdays, April 7 from 6:30pm-9:00pm. This class will meet every other Wednesday for 4 sessions.
Bernina Mastery Classes!
(free with purchase of machine at QUILTER'S JEM)

WEDNESDAY, MARCH 31
Mastery 400/500 series, 11am - 1pm
Mastery 700/800 series, 2pm - 4pm
Mastery 300 series, - 5pm - 7pm
Learn to master your BERNINA Sewing machine as you work step by step through hands-on activities from the My BERNINA Sewing Mastery Workbook.
Learn to care for your machine and how to use specialty functions to customize machine settings to your needs. You'll learn to use the most important utility stitches on your machine, such as straight stitches, overlock stitches, long stitches, blind hem, and buttonholes.
You'll also learn about the many creative options of your machine, including decorative stitches, combi mode, free-motion stitching, and more.

Workbook provided.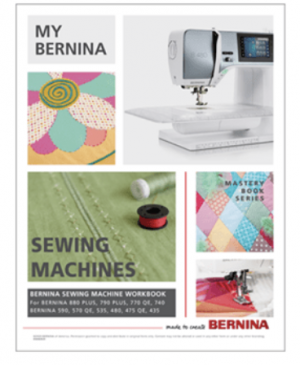 THURSDAY, APRIL 1
Embroidery 11am - 2pm
Learn to master your BERNINA Embroidery machine as you work step by step through hands-on activities from the My BERNINA Embroidery Mastery Workbook.
You will learn everything you need to embroider with your machine successfully, including setting up your machine for embroidery, customizing machine settings, navigating embroidery screens, adding lettering, editing designs, placing designs, changing thread colors and more.
Workbook provided.
Bernina News


If you've been thinking about a new Bernina, now is the time!
20% off MSRP sale Select Machines and Presser Feet
March 1-31

Happy Sewing
~Kim~