1525 Central Ave NW / East Grand Forks MN 56721 / (218) 399-0159 / www.quiltersjem.comHello Friends
Hello!
The weeks seem to fly by, and this has been another busy one at Quilter's JEM!
Wednesday morning I had the fun privilege of being the guest on
Coffee with Kay,
a Facebook live interview that Kay Derry, owner of Northern Roots Boutique. Kay's goal is to promote local businesses run by women. I enjoyed sharing with her how the shop started and what we've been up to in our first 2-1/2 years of business.
If you'd like to see the interview, go to facebook and check it out!! Also, visit Kay's shop, Northern Roots Boutique, in person or online-she carries super cute clothes!

* * *
NEW and coming MAY 15!
Subscription Box!
Treat yourself monthly to the perfect little surprise delivered right to your door each month!
Each box will include fabric, pattern, notion and a custom designed
Block of the Month Sew-a-long pattern!
$24.95/month plus shipping.

Sign up by April 30 ~~ First box goes out on May 15!
Supplies are limited, register at 218-399-0159 to reserve your box.
* * *

Lots of new Fabric in the store
Floragraphix V by Jason Yenter of In the Beginning Fabrics and a few blocks using the fabrics
Uptown by Rebecca Jones for Clothworks featuring Man's Best Friend
And many more that we are in the process of unboxing!
and a few new kits
Lakeside Crown and Anchor pattern by Doug Leko features Lakeside by Mara Penny for Moda Fabrics
Sample using Moody Bloom Panel and fabrics made by Pam
Wondering what to do with a panel, below is a beautiful sample put together at Camp Lebanon by the very talented camper, Lori Day!
***
Pajama Class!

Audrey would love to have you join her for this fun and practical class.
We have some beautiful soft knits that will make your jammies super comfy!
Pattern and fabric required!
Call 218-399-0159 to register.

You will attend two sessions to complete your pajamas, but you can join either session as you will make the entire piece (either the top or bottom) at a session.
Next Session, pajama top: April 10, 11am-2pm
Pajama bottom session to be scheduled later.

* * *
Spring Pincushion Class!
Pincushion class is back for one session and we'll be making a fun
spring themed pincushion to perk up your sewing table.
Join us from
9 am to noon

or

from 6 - 9 pm onMonday, April 26.

Bring your sewing machine and accessories ~~ the supplies you need to make the pincushion will all be provided and you can leave with a finished pinnie!
We will be using the Pin Pals book for this class.
$20 class fee includes supplies to make the pincushion.
* * *
Working with Wool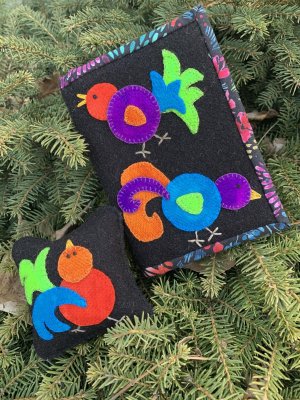 Bright Birdie Pincushion & Needle Book
If you're new to wool, this is a great class to get you started.
If you're already a wool stitcher, you'll enjoy making the
Bright Birdie pincushion and needle book!
Join us for this fun class on
Tuesday, April 20, from 9 am - noon or 6 - 9 pm.

Class fee $20
Project kit with pattern included available at the shop.
* * *
Adult Beginning Sewing
If you're a beginner, Pam will get you off to a great start.
During this three session class you'll begin by making a pillowcase, next a tote bag, and during the last session even learn to install a zipper!
Call 218-399-0159 to register!
Saturdays April 24, May 1 and 8
* * *
Beginning Quilting with Connie Selle
8 week sessions
There are still a couple of spots available for the Tuesday evening session.
Monday afternoon session is full.
Tuesdays from 6:30 - 9:00 pm beginning April 13
* * *
All of our Block of the Month Clubs are close to full!
But, there is still time to join any or all of them!
Call 218-399-0159 to reserve your spot today!
* * *
Aurifil Thread Club
$39.95/month
Meets Thursday, April 29, at 6:00
Space is still available.
Bring a USB for your machine embroidery pattern.
You will also get the paper pieced pattern and a gift from Quilter's JEM!

* * *
Kim Diehl's Simple Whatnots Club
Club will be held the 3rd Saturday of each month from 9:30-10:30 am.
The next class is Saturday, April 17.
Are you signed up? The cost is $19.99/month.
Call 218-399-0159 to register or register online at www.quiltersjem.com>shop>block of the month/subscriptions>Kim Diehl's Simple Whatnots Club



* * *




* * *
Kim Diehl's Humble & Heartfelt Sew-A-long
Class is April 17 from 11am-12pm
Cost is $16.50/month. Call 218-399-0159 to register!



* * *




My Favorite Color is Moda Update!
Almost 40 participants are enjoying this club with us, and there's still time for you to sign up and join in the fun!
$12.50/month for 12 months
We have five great colorways available:
Primrose Garden
Trading Post
Cookie Tin
Pink Lemonade
Tropical Getaway
Primrose Garden and Trading Post
* * *


April Presser Foot Demo
Thursday, April 15

10:00 am and 5:00
pm

Join Audrey to learn about all the features of your quarter-inch foot.

We know this foot is great for sewing 1/4-inch seams, but it's useful for many other techniques as well. Come see project samples, related videos, and share ideas!
* * *

Bernina Mastery Classes
(free with purchase of machine at QUILTER'S JEM
WEDNESDAY, APRIL 14

Mastery 400/500 series, second session - 11am - 1pm
Mastery 400/500 series, first session - 2pm - 4pm
WEDNESDAY, APRIL 21

Mastery 700/800 series, second session - 11am - 1pm
Mastery 300 series, second session - 2pm - 4pm
Mastery 300 series, first session - 5pm - 7pm
Learn to master your BERNINA Sewing machine as you work step by step through
hands-on activities from the My BERNINA Sewing Mastery Workbook.
Learn to care for your machine and how to use specialty functions to customize machine settings to your needs. You'll learn to use the various stitches on your machine, such as straight stitches, overlock stitches, long stitches, blind hem, and buttonholes.
You'll also learn about the many creative options of your machine, including decorative stitches, combi mode, free-motion stitching, and more.
Workbook provided.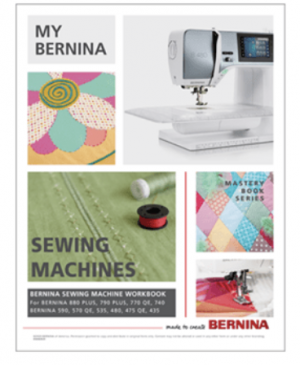 Embroidery:

Thursday, April 15 or April 29, 11 am - 2 pm
* * *
Bernina News
April is National Overlocker Month.
Stop in to learn more about one of these great machines!
Happy Sewing ~~ Kim