1525 Central Ave NW / East Grand Forks MN 56721 / (218) 399-0159 / www.quiltersjem.com
Hello Friends!
Enjoying the spring-like weather as much as me?
This has been a busy work week! Preparing for new classes, assembling new kits, new products to arrive and much more. I have revisited the GE Designs book for some inspiration which is turning into a new class series. Stay tuned.
* * *

Sneak Peak!
Subscription Box!




NEW AND COMING JUNE 15!!!





PLEASE NOTE!!


Due to printing and shipping delays, the JEM Box will begin on June 15, rather than on May 15 as originally planned.

Treat yourself monthly to the perfect little surprise delivered right to your door each month!
Each box will include fabric, pattern, notion and a custom designed
Block of the Month Sew-a-long pattern!
$24.95/month plus shipping.

First box goes out on June 15!
Supplies are limited, register at 218-399-0159 to reserve your box.
* * *


NEW!

Select bolts of Roselyn by Minick & Simpson
Spring Brook Triple Treat Kit includes fabric for the Twin Size Quilt on left, the Table Runner and an optional throw that requires additional background. Great way to use all your fabric in this pattern by Terry Atkinson.
* * *
CLASSES
Burst of Blooms with Jan
2 Sessions
Learn this fun technique using panels to make this beautiful quilt!
May 17 and June 7
6pm-8:30pm

Class fee: $40.00
Kit and ruler required. Call 218-399-0159 to register.
Visible Mending
is a two session class to be held on Thursdays, June 3 and June 24

10:30am-12:30pm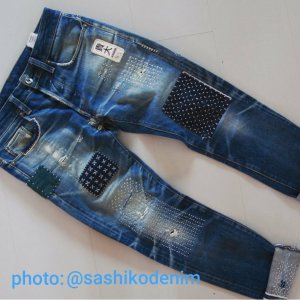 * * *
Aurifil Thread Club



$39.95/month


Meets Thursday, May 27, at 6:00pm
The Iberian Lynx was our Endangered Species in April, and may be my favorite one yet.


Space is still available.




Bring a USB for your machine embroidery pattern.


You will also get the paper pieced pattern
and a gift from Quilter's JEM!



* * *




Kim Diehl's Simple Whatnots Club



Club will be held the 3rd Saturday of each month from 9:30-10:30 am.
The next class is this Saturday, May 15th.
Are you signed up? The cost is $19.99/month. Call 218-399-0159 to register or register online at www.quiltersjem.com>shop>block of the month/subscriptions>Kim Diehl's Simple Whatnots Club
* * *
Kim Diehl's Humble & Heartfelt
Sew-A-long

Class is this Saturday, May 15 from 11am-12pm
We will be taking an extra session for Month's 3 and 4 as most of us are a little behind.


Cost is $16.50/month. Call 218-399-0159 to register!





* * *




My Favorite Color is Moda Update!


40 plus participants are enjoying this club with us, and there's still time for you to sign up and join in the fun!
Next Session is Tuesday, May 18 at 11am or 6pm


$12.50/month for 12 months




We have five great colorways available:


Primrose Garden
Trading Post
Cookie Tin
Pink Lemonade


Tropical Getaway



* * *
BERNINA NEWS
Don't wait, they won't last long!
We have both the
480SE model with Trolley and Walking foot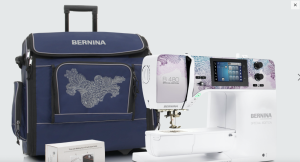 and
the 790 SE /480 SE and Matching Cases
back in stock!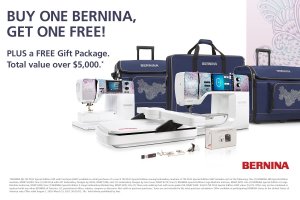 * * *



For those of you who enjoyed the


Circular Embroidery Attachment Demo

,
the attachments have arrived and are now in stock!!

* * *
Bernina Mastery Classes
(free with purchase of machine at QUILTER'S JEM)

if you don't see a time for your machine listed, call 218-399-0159 and we will find you one!

WEDNESDAY, MAY 26
Mastery 700/800 series, first session: 11am - 1pm
Mastery 500 series, first session: 2 - 4pm
Mastery 400/500 series, first session: 5 - 7pm
Learn to master your BERNINA Sewing machine as you work step by step through
hands-on activities from the
My BERNINA Sewing Mastery Workbook.
Learn to care for your machine and how to use specialty functions to customize machine settings to your needs. You'll learn to use the various stitches on your machine, such as straight stitches, overlock stitches, long stitches, blind hem, and buttonholes.
You'll also learn about the many creative options of your machine, including decorative stitches, combi mode, free-motion stitching,

and more.
Workbook provided.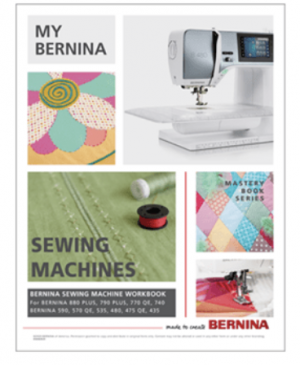 * * *
Embroidery:


Saturday, May 15, 9 am - noon
Thursday, May 27, 11 am - 2 pm

* * *
~Happy Sewing
Kim