Skip Navigation
Website Accessibility
News from Quilter's JEM for the week of 6/24/21

1525 Central Ave NW / East Grand Forks MN 56721 / (218) 399-0159 / www.quiltersjem.com
Hello Friends!


QUILTER's JEM will be closed Saturday, July 3-Monday July 5 in observation of Independence Day! Celebrate by making this cute Wall Hanging & Table Runner Kit,
or
purchase a retired sample to grace your 4th of July table.

It's been a fun week here at the shop, with lots of quilting friends stopping by to check out our Celebrate Summer Sale!!!
More bolts have been added, so we have decided to continue the sale through the end of the month. There's still time to come in and enjoy 30% off hundreds of bolts, and 35% off if you finish the bolt!

Be sure to join me on Mondays at 8 pm on Facebook live. Then again Thursday mornings at 9:30 for a short demo! We record it so you can always catch the replay!
Facebook>Quilter's JEM

RAFFLE TICKETS! Connie will be at the store on Wednesday, June 30 from 3-6pm selling and giving out raffle tickets for the most beautiful Dresden Plate Quilt as a charity fundraiser for NSQG.

NEW THIS WEEK!
Meadows Edge from Maywood Studios includes bolts and a beautiful panel. Kit coming soon.



Texture Graphix by Jason Yenter of In the Beginning Fabrics. We've gotten only a few bolts (most on backorder), but I had to share. So lovely!



Lulu by Chez Moi for Moda Fabrics! made it's way into the first JEM Box, but we also have more bolts, and the most beautiful Spotted Zen Chic to go with it!



Classes:


Intro to Curved Piecing with Connie

If you love curved piecing but find it a little intimidating, Connie will remove all fear as she walks you through this 3 session class.

When: Wednesdays July 14, 21 and 28

Time: 6:30 - 9:30 pm

Cost: $45.00


Beginning Quilting with Connie

The next session of Beginning Quilting will begin in July.

It runs for 8 weeks and the cost is $85.00

Classes will be Monday afternoons from 1:30pm - 4:00pm, beginning July 12, or on Tuesday evenings from 6:30pm - 9:00pm, beginning July 13.





Kids Sewing (Level 2) with Pam
Is back with 3 sessions on July 14, 21 and 28.

Continue learning and building skills with this more advanced series of classes for kids.




Level 1 Kids Sewing
In this series you will make a pillowcase, a tote bag and a zipper pouch to start your sewing skills. Meets August 4th, 11th and 18th. 3:00-6:00pm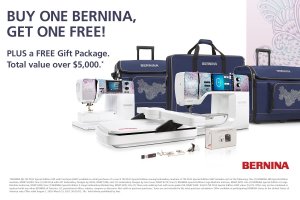 Don't miss out on our last available Special Edition Machines!

Bernina Mastery Classes
(Free with purchase of machine at Quilter's JEM)


Begin to master your BERNINA sewing machine as you work step by step through hands-on activities from the My BERNINA Sewing Mastery Workbook. Learn to care for your machine and how to use specialty functions to customize machine settings to your needs.

You'll use various stitches on your machine such as straight, overlock, long, blind hem and buttonhole. You'll also learn about the many creative options of your machine such as decorative stitches, combi mode, free-motion stitching and more. Workbook provided.


Have a wonderful week!
Happy Sewing
~Kim