1525 Central Ave NW / East Grand Forks MN 56721 / (218) 399-0159 / www.quiltersjem.com
Hello Friends!
Quilt Minnesota Shop Hop preparations are well underway! We are still taking preorders for fabric and also our kits! You will have to write the kits in if you want them on preorder.
Meet the Plaid Traveller Tote designed by Alana
and the It Takes Two Pouches in Blue or Light Caramel also designed by Alana!
Minnesota Raggs Quilt Kit for Shop Hop features the Pictures Panel and super soft Woolies Flannel. An extra bonus is that the Flannel is precut 10" squares, so the only thing you need to cut is the panel! Available for Preorder.
More MN kits are on their way!
NEW FABRICS THIS WEEK!
A snippet of the new Frightful Night Placemats Panel, great for placemats, or mount on canvas for a quick inexpensive Halloween collage set!
How about a little Sophisticated Christmas from P & B Textiles! Very elegant as you start thinking about holiday preparations!
Facebook Live was a lot of spooky fun as we played with the new Frightful Night line on Monday night at 8pm. If you missed the Facebook Demo on Thursday morning, I demonstrated how to use the new Applipops! If you like to do applique, you will love how easy it is to make perfect circles with this new notion!
Join us Monday, July 19 at 8pm on Facebook Live and on Thursday, July 22nd at 9:30am as we explore new products! Follow us on Facebook at Quilters JEM LLC to get notifications of our sales and demos!
UPCOMING CLASSES:
Sassy Stitcher's Club

(and I do mean Sassy!) meets the second Monday of each month at 6pm. Come one, Come All with any type of handwork projects you have in the works, or pick out a new one here at the store. Barb and Alana are here to help with your stitching needs. Bonus, it's free! Next session is Monday, August 9th.
Spring Chicken Quilt Class

will be led by Audrey. This class will combine Applique and Machine Embroidery, both of which can be done by hand-your choice! Kit required, no class fee. Two sessions available.
Classes will start on:
Saturday, September 11 from 9am-12pm
or
Thursday, September 16 from 6pm-9pm
Burst of Bloom Quilt
Join Jan and learn how to make this beautiful quilt using seven identical panels and a 60 degree ruler. This three session class will meet at 6pm on Mondays, July 26, August 2, and August 16.
Kim Diehl's WhatNot Club
will meet on Saturday, July 17th at 9:30am, and
Kim Diehl's Humble & Heartfelt
will meet from 11am-12pm.
There are still two spots available in the WhatNots Club!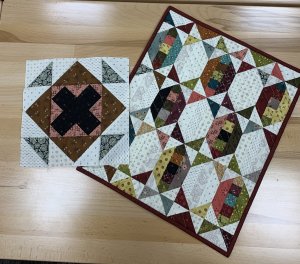 My Favorite Color is Moda
meets Tuesday, July 20th at 11m or 6pm. It is never too late to start this project. Blocks are large, and very fun. There are still spots available!
Our second
JEM Box
went out yesterday! If you want to join us for the August box, call 218-399-0159 to register! It is $24.95 plus tax and shipping. Pickup in store is an option. I will be sending an email once everyone has received their boxes about the sew-a-long, and some tips on the project in July's box.
Happy Sewing!
~Kim