Skip Navigation
Website Accessibility
News from Quilter's JEM for the week of 8/13/2021

1525 Central Ave NW / East Grand Forks MN 56721 / (218) 399-0159 / www.quiltersjem.com
Hello Friends!
Saturday, August 14th is Heritage Days! Celebrate with a cute quilt kit, Flower Delivery Quilt Kit 56"x&70" may fit the bill!
NEW this Week!

Alphabet Animals Boy or Girl Quilt Kit!

Boudoir Star Bloom Quilt Kit
Nose to Nose Fabric Line by Susan Winget for Wilmington Prints!
Handmade Pottery all unique, one-of-a-kind pieces!

CLASSES!
My Favorite Color is Moda
will meet Tuesday, August 17th at 11am or 6pm
Colors still available~ It's Never Too Late to Join!
Trading Post
Primrose Garden
Pink Lemonade
Cookie Tin
Kim Diehl's Humble & Heartfelt is August 28th at 11am

Kim Diehl's Simple Whatnots is Wednesday, August 25th at 6:30 or Saturday, August 28th at 9:30am

Stella, Get to know your Stripology Ruler!
~Wednesday, September 8 starting at 9am
or
~Saturday, October 2 starting at 9am


Call 218-399-0159 to register.






Spring Chicken
~Saturday, September 11 from 9am-12pm
or
~Thursday, September 16 from 6pm-9pm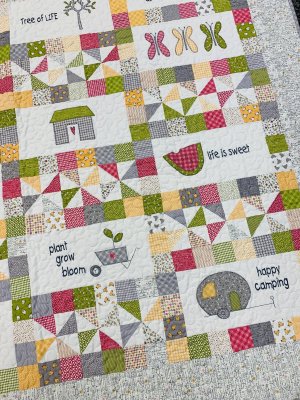 ~Happy Sewing
Kim