1525 Central Ave NW / East Grand Forks MN 56721 / (218) 399-0159 / www.quiltersjem.com
Hello Friends!
Not too late to take in the last day of the Valley Shop Hop Saturday, September 25th from 9:00am-5:30pm. Visit all nine shops and receive a 10 pack of 45mm Rotary Blades.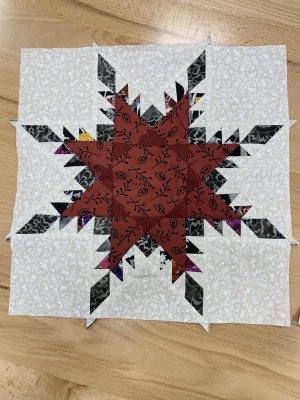 The Feathered Star class with Connie starts tomorrow, Saturday, September 25th at 10:30am. Varying sizes of stars are arranged in a pleasing setting. This group will meet once each month on the 4th Saturday of each month for 12 months. Learn Connie's tips and tricks to create a bucket list quilt. $60
Beginning Quilting 101 begins
Monday, September 27th at 1:30pm-4:00pm. One Space Available.
or
Tuesday, September 28th at 6:30-9:00pm. Two Spaces available.
$85 for 8 sessions
Aurifil Club 2021 will meet Wednesday, September 29th at 6pm. This is a change from our usual meeting on the last Thursday of each month.
Also, a schedule change this week! Facebook Live will be held on Wednesday, September 29th at 8pm due to personal scheduling conflicts. There will be no Facebook Live on Thursday morning at 9:30am.
Stella will be held Saturday, October 2nd beginning at 9am! We will finish today! Class is full. New class will be scheduled soon!
Quilting 201 has one space available. Class will be held Wednesdays, November 3, 17, December 1 and 15th.
Painted Desert Class start date has been set! Class will start Thursday, January 27th at 6:30pm. Kit required. More details to come.
Alert!

Those of you that love Charley Harper Designs as much as I do...
The loons are back in stock, and so is the Plaid Traveller Pattern. The loons make the cutest tote!
Charley Harper Owls Barkcloth
Charley Harper's Menagerie Barkcloth
Why all the scheduling changes? The answer is pictured above. Maggie is competing in her senior year tennis season. What an amazing group of young ladies, so much fun to watch them all compete. I will miss watching tennis next year, but we are enjoying every minute this year!
~Happy Sewing
Kim