Skip Navigation
Website Accessibility
News from Quilter's JEM for the week of 3/4/2022

1525 Central Ave NW / East Grand Forks MN 56721 / (218) 399-0159 / www.quiltersjem.com
Hello Friends!
Spring is just around the corner, and we have some new projects, fabrics and ideas for you. Maybe you'd like a new Crystal Edition Bernina 790 or 590 Plus, or the new 860 Overlocker! Great gifts with purchase included!
Events:
Saturday, March 5th join me for 12 new bundles on Facebook live at 12pm.
Monday, March 7th at 8pm. 10 in 10! Explore 10 products in 10 minutes on Facebook Live.
The All Minnesota Shop Hop begins April 1 and runs through May 31. This is a new Shop Hop for Minnesota quilt shops. Get your magazine which includes your passport, five patterns, and articles to expand your quilting journey! Bubba is even featured on our page! Don't worry, The Minnesota Shop Hop 2022 we all know and love will still be happening in July/August!
JEM Box
There is an opening in the much sought after JEM Box Subscription! The JEM box will arrive at your doorstep each month with fun new fabric, a pattern, a notion AND a Quilter's JEM sew-a-long block of the month pattern. Call or email the shop if you want to be in this program, as it will go fast. The monthly subscription cost is $24.99.
Pictured below are one participant's blocks from the JEM Box Sew-a-long. A setting pattern will be provided when we have enough blocks to make a nice size lap quilt.
Upcoming Classes:
Professional Tote Class has been rescheduled for March 11th and 12th from 9am-4pm. Those registered for the previous class that was canceled due to weather are automatically scheduled for this class.
Two openings available.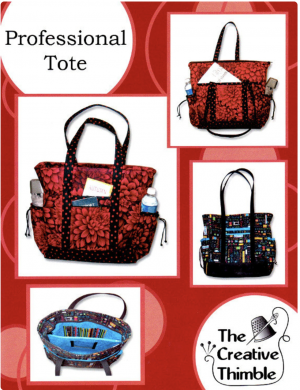 Starry Night with Kim and Alana. A nine month class with two sessions available beginning Saturday, March 19th from 11am-1pm or
Wednesday, March 23rd from 6pm-8pm
Kits required. Kits include all fabric to make large quilt, pattern, ruler and 9 months of instruction for $240.95. We chose a navy glitter grunge as the background for a beautiful night sky effect.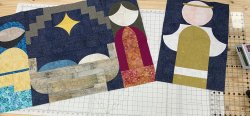 Painted Dessert with Connie begins Thursday, March 31st. Two spaces available. I don't know about you, but I could use a desert sunset about now.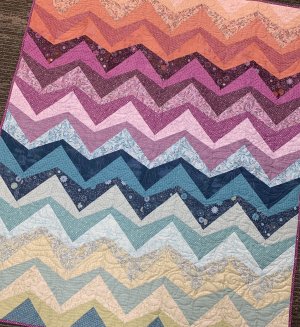 Sassy Stitchers!
will meet on Monday, March 14 at 6 pm. Bring a handwork project and join us for a fun time of stitching and sharing.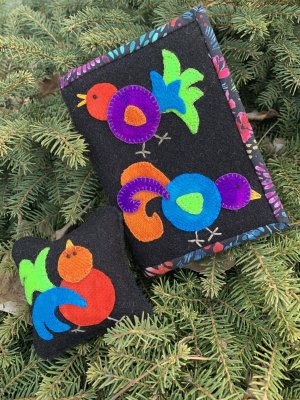 New Kits:
Frogs at Daybreak! perfect for a new baby or toddler!
Fresh from the Farm Placemat Kit, set of four! Doesn't get much easier than this. We took the panel of four, quilted it, then cut it apart and put the binding on. Panel, backing and binding included in the kit.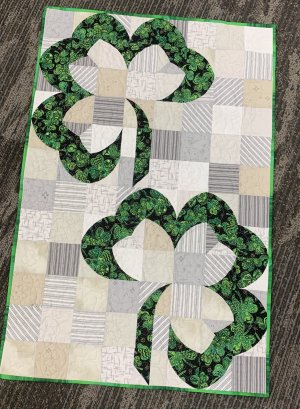 Irish Wishes Posh Lucky Quilt kit will help you meet your goal of learning new quilting skills! Kit uses the Mini Quick Curve ruler for super easy curves!
Happy Sewing!
~Kim