Skip Navigation
Website Accessibility
News from Quilter's JEM for the week of 10/14/2022

1525 Central Ave NW / East Grand Forks MN 56721 / (218) 399-0159 / www.quiltersjem.com
Hello Friends!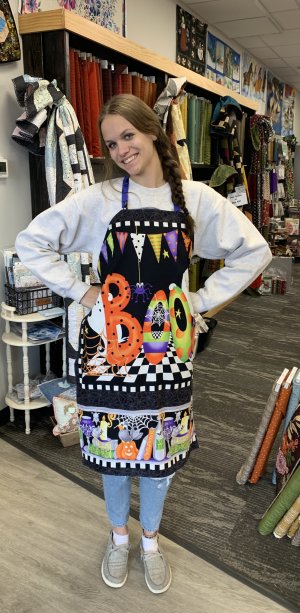 Boo! Reversible Apron is adorable, especially on Lauryn! I'll be wearing mine while passing out candy!
JEM Boxes will be ready on Saturday. We still have a few subscriptions left! $24.95 plus tax and shipping $8.00. The Sew-A-Long block for this month is pictured below. I have chosen the Merry Little Christmas line by Bonnie & Camille for Moda Fabrics for my sew-a-long.

Classes this week!
Cork Notebook Cover Class! Class Fee: $20.00 plus supplies
Thursday, October 20
10am-2pm (Full)
or
6pm-10pm (1 spot remaining)

Working with Cork is fun and easy. Kathy will guide your through making a Composition Notebook Cover in this class. You will leave with a completed cover.
.
Look at the gorgeous Selection of New Cork all ready for your class!
Stella Stripology Class! Cost: Free
9am until finished! You will make the whole quilt top in this class while learning to use my favorite rulers!
Wednesday, October 19 (1 spot remaining)
or
Saturday, October 22 (1 spot remaining)
Upcoming Classes:
Travel Bag Class with Pam Class Fee: $40.00 plus materials
Learn the construction of a byAnnie travel bag OR the byAnnie Ultimate Travel Bag. First class will be choosing your fabrics, getting your pattern and receiving instruction on how to prepare your fabrics. No machine required at 1st class.
Three Classes:
Saturday, November 5, 1:30pm-2:30pm
Saturday, November 19, 11am-6pm (or so)
Sunday, November 20, 12pm-6pm
Intro to Paper Piecing with Kim
Monday, November 28. 11am-2pm. Class Fee $30.00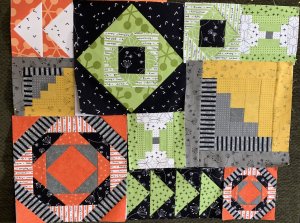 Lean the basics of paper piecing. Machine needed. Practice supplies will be provided.
Facebook Live is scheduled for Monday at 6pm. Get the app for easy shopping and viewing at App Store or Google Play Quilter's JEM. Tune in and share for a special giveaway this week!
.
If using the QR code above, open camera, hold over code (do not take a picture) the code will load itself. Click on the link that comes up and it will bring you to the spot to get the Quilter's JEM app! Stop in the store and we can help you if you have any trouble.


Bernina!!!
This Saturday, October 15 ONLY! 0% Financing for 72 months
Very Helpful when purchasing this month's Special!
Happy Sewing!
~Kim