Skip Navigation
Website Accessibility
News from Quilter's JEM for the week of 10/21/2022

1525 Central Ave NW / East Grand Forks MN 56721 / (218) 399-0159 / www.quiltersjem.com
Hello Friends!
Emma and I are off to Houston this week for Quilt Market! Looking for new fabrics, patterns and attending lots of classes! I'm sure we will have many new and fresh ideas when we get back!
The Slow Stroll Quilt Kit 2, Plum Panel is such a beautiful new quilt kit for fall!
BERNINA!!!
BOGO Sale lasts from October 1-December 31st! Purchase an 880 Plus or 790 Plus and receive the L860 Air-threading Serger for free!
Nice Ice Baby Fabric Line by Riley Blake has arrived! Navy, grey, mints and taupe combine to make the cutest baby or winter quilt! Narwhals, Polar Bears and Penguins abound!
Storm at Sea with Connie begins Saturday, October 29th at 10:30-11:30 am. Class fee is $60.00. Shown is an example from Quilt in a Day, not necessarily exactly the pattern that Connie will be using.
Travel Bag Class with Pam Class Fee: $40.00 plus materials
Learn the construction of a byAnnie travel bag OR the byAnnie Ultimate Travel Bag. First class will be choosing your fabrics, getting your pattern and receiving instruction on how to prepare your fabrics. No machine required at 1st class.
Three Classes:
Saturday, November 5, 1:30pm-2:30pm or Monday, November 7, 6pm-7pm
Saturday, November 19, 11am-6pm (or so)
Sunday, November 20, 12pm-6pm
Intro to Paper Piecing with Kim
Monday, November 28. 11am-2pm. Class Fee $30.00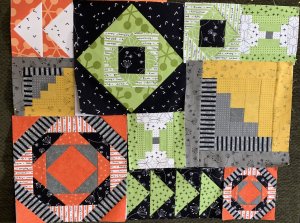 Lean the basics of paper piecing. Machine needed. Practice supplies will be provided.

Facebook Live is scheduled for Monday at 6pm. Get the app for easy shopping and viewing at App Store or Google Play Quilter's JEM. Tune in and share for a special giveaway this week!
.
If using the QR code above, open camera, hold over code (do not take a picture) the code will load itself. Click on the link that comes up and it will bring you to the spot to get the Quilter's JEM app! Stop in the store and we can help you if you have any trouble.
Happy Sewing
~Kim