Skip Navigation
Website Accessibility
News from Quilter's JEM for the week of 11/4/2022

1525 Central Ave NW / East Grand Forks MN 56721 / (218) 399-0159 / www.quiltersjem.com
Hello Friends!
SAVE THE DATE!
Come celebrate our 4th Anniversary on Saturday, November 26 from 9am-3pm. Quick make-n-take for the first 30 guests! Enjoy giveaways, a demo or two, and find out all about our classes to help make your gift-giving unique! Classes to be scheduled in the month of December!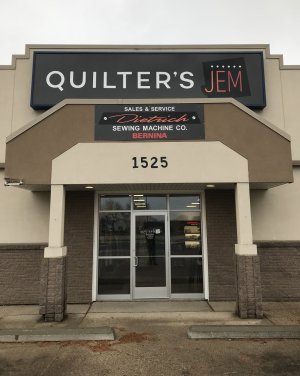 Facebook Live is scheduled for Monday at 6pm. Get the app for easy shopping and viewing at App Store or Google Play Quilter's JEM. Tune in and share for a special giveaway this week!
.
If using the QR code above, open camera, hold over code (do not take a picture) the code will load itself. Click on the link that comes up and it will bring you to the spot to get the Quilter's JEM app! Stop in the store and we can help you if you have any trouble.
NEW!!! JEM Notion Box $55.95 and or a JEM Holiday Box $30.00 would make lovely holiday gifts for your favorite friends!
Get Furry with our new Fur Stacks! Each stack contains twelve different 11"x18" precut pieces. Sew or serge together to make a quick 44x52 throw! Two varieties, Solid or Animal Print available! $49.95 per stack
Just in time for the holidays! Financing available.
Connie's 4th Saturday Class Storm At Sea will meet November 19 at 10:30am. This new project will explore all the different possibilities using this very interesting block! Class will typically meet the 4th Saturday of the month. (Except November and December)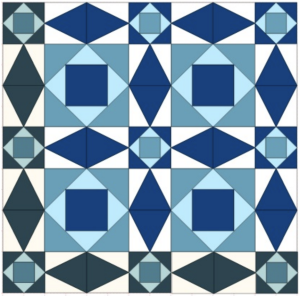 Second Friday with Connie will be held at 6:30pm on Friday, November 11. Space is limited, call 218-399-0159 to register.
Scandi-Feathers Red Bird or Blue Bird with Sue Burton-Kelly
11am-2pm
Tuesday, November 29
or
Wednesday, December 1
Class Fee: $30.00, Kit Required $15.00

Create this delightful bird constructed of wool blend felt and embellished with easy to learn chain and straight stitches, closed fly stitch, back stitch, French knots, thorn stitch and blanket stitch. You'll want to make a flock of these cuties for your Christmas tree. Pieces must be cut and ready to start stitching for the first class.


Happy Sewing!
~Kim