1525 Central Ave NW / East Grand Forks MN 56721 / (218) 399-0159 / www.quiltersjem.com
Hello Friends!
We are closing for Thanksgiving Day and Black Friday, but hold on to your hats!
On Saturday, November 26th from 9am-3pm we have our 4th Anniversary Open House!
The first 30 customers will receive a free Make-n-Take! Treats, demos and giveaways!
We will be registering for Holiday Canvas Rug Classes to be held in December!
A Sneak Peak! Not to be missed!
ALSO! Bring in a homemade pillowcase and receive a $10 gift card. Pillowcases will be donated to local charities. One gift card per customer.
Bernina Mastery Classes!
As the new year approaches, if you need to schedule your Bernina Mastery Class call the store at 218-399-0159 and we will get you on the schedule. The Mastery Classes provide in-depth learning of the skills and techniques to maximize usage of your machine.
Classes this week
Saturday, November 19th
Kim Diehl's Whatnots Club. 9:30am-10:30am
Connie's 4th Saturday (meeting the 3rd Saturday). 10:30am-11:30am
Storm At Sea is on many bucket lists. Pictured on the right is the block, it's all in the placement and Connie is there to help! Be Fearless and attend tomorrow's 1st class!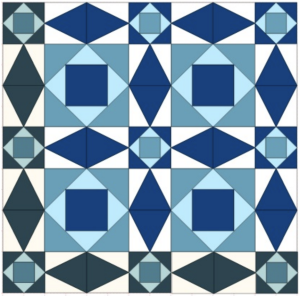 New Kits and Fabric this week!
Sticks n Stones Table Runner Kit!
Alpine Ski Fabric from Studio E!
And LOTS More!!!!
Happy Sewing!
~Kim