Skip Navigation
Website Accessibility
News from Quilter's JEM for the week of 1/13/2023

1525 Central Ave NW / East Grand Forks MN 56721 / (218) 399-0159 / www.quiltersjem.com
Hello Friends!
A beautiful Hoar Frost morning!
Time to brighten up our January days with a colorful snowman!
Winter in 4 Seasons Wall Hanging Quilt Kit measures 32"x42" . $59.95 backing not included.
A Year of Winter Table Runner Kit 25x42. Backing included. $39.95
OR
A Year of Winter Panel for $8.99 with some coordinating fabrics would make a couple of beautiful pillows or canvases to brighten up your home!
I love to try new things, and the Sew Kind of Wonderful rulers have been it for awhile. Try the Posh Frosty Pattern or kit to ease your way into the process!
Frosty Friends Canvas Floor Cloth Kit $65.00. One available.
Cuddle Buddies by Shannon Fabrics are adorable. Kit includes quilt top and backing, along with fabric and pattern to make the bear and the fox. $59.95
Introducing JEM Babies Whole Cloth Quilt Kits! Several styles available. $38.95
Facebook Live is Monday at 6pm!
Get the app for easy shopping and viewing at the App Store or Google Play: Quilter's JEM. Tune in and share for a special giveaway this week!
.
If using the QR code above, open camera, hold over code (do not take a picture) the code will load itself. Click on the link that comes up and it will bring you to the spot to get the Quilter's JEM app! Stop in the store and we can help you if you have any trouble.

Classes: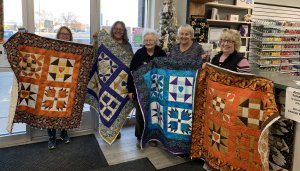 Beginning Quilting with Connie. You will learn skills to allow you to take on many types of quilting projects during this 8 week class. Look at the happy faces!
Monday, January 16. 1:30-4:00pm, FULL
or
Tuesday, January 17, 6:30pm-9:00pm (One opening)



Travel Bag


Make a byAnnie travel bag in class. January session is full, next available class in March.
Informational session for January Class meets Wednesday, January 18th at 6:30pm (No machine that night).



JEM Boxes will be ready to go on Monday! Billing information must be updated! Call shop to update Credit card information.
Treat yourself or your favorite quilter to this monthly subscription! 4 spaces available.



Happy Sewing!
~Kim